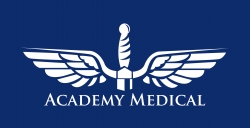 West Palm Beach, FL, November 06, 2019 --(
PR.com
)-- Academy Medical announces that their vendor partner, RenovoDerm has been added to their DoD DAPA contract. Through Academy Medical's contract, RenovoDerm will market their Phoenix Wound Matrix and Rotium Bioresorbable Wick products to DoD medical facilities. The Phoenix Wound Matrix is a synthetic, fully bioabsorbable advanced wound care device. The Rotium Bioresorbable Wick is intended to be used in conjunction with suture anchors for the reattachment of tendon to bone in rotator cuff repairs.
"We are thrilled to have yet another conduit to enable access to the latest technology in advanced wound care to our active military and their families. Our partnership with Academy Medical continues to grow and we look forward to servicing our service men and women," said Mike Morello, Vice President of Sales and Marketing at RenovoDerm.
"The government procurement process is, in many ways, a challenge for all companies, small or large," Academy Medical President, Dan Shaw, says. "Many businesses often don't have the expertise, resources, or even the patience to deal with the bureaucracy and systemic issues embedded in the government contracting process. Academy Medical is well positioned to help these companies navigate the contracting process – dramatically shortening wait times which results in quicker access and revenue turns with emerging technologies."
To learn more about RenovoDerm products visit our web site at www.RenovoDerm.tech.
For more information about Academy Medical, their services, and their vendors, visit our web site: www.academymedical.net, call (888) 860-0561, or email: info@academymedical.net.