Young Artist Directs Art Show
12 year old to be Art Director of a new art show coming to Eudora, Kansas.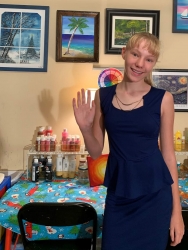 Eudora, KS, November 07, 2019 --(
PR.com
)-- Young artist Haley Sellmeyer announced today that she will be the Art Director of a new art show coming to Eudora, Kansas this November 30th and December 1. Sellmeyer, a native to the Kansas City area, is 12 years old and has been selling her art since she was 5 years old; participating in over 100 art exhibitions. Sellmeyer, the founder of Haley's Holiday Artshow, brings a new and exciting art show to the community featuring art from 20 local artists, craft vendors, live music, food, wine, giveaways, an interactive art booth and Santa Claus.
The event, which will be held at St. Paul United Church-Christ in Eudora from 10 am to 6 pm November 30 and 11 am to 5 pm December 1 will offer patrons complementary cocoa, coffee, candy canes and wine sampling from Davenport Winery. The church will also be providing a walking taco offering and a bake sale during the show. Patrons are encouraged to bring a non-perishable food item to help support the community thru the church food pantry.
Haley Sellmeyer, the founder, coordinator and art director of the event has had the idea for this show for several years. She has teamed up with the Eudora Artist Coalition to run and host the event. Haley, utilizing her previous show experience hopes to make this show great for artists, patrons and the community. Sellmeyer states, "The show provides the community a unique way to shop for holiday gifts. I think it's for anyone looking for holiday presents and a unique experience. I think there is something for everyone."
To learn more about Haley's Holiday Art show visit https://haleysholidayartshow.com
To learn more about artist Haley Sellmeyer visit https://haleysellmeyer.com/
Contact Information:
Susan Sellmeyer
Telephone: 913-231-4226
Email Address: ssellmeyer@comcast.net
Website:
https://haleysholidayartshow.com
Website: https://haleysellmeyer.com/
FaceBook: https://www.facebook.com/haleysholidayartshow
Contact
Artwork by Haley
Haley Sellmeyer
913-231-4226
haleysellmeyer.com
Susan Sellmeyer
ssellmeyer@comcast.net

Contact