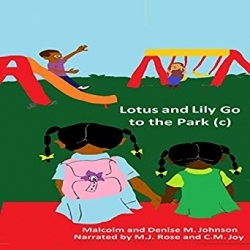 Oak Park, IL, November 08, 2019 --(
PR.com
)-- Malcolm and Denise M. Johnson's book for new beginning readers, "Lotus and Lily Go to the Park," has been brought to life with their daughters' audiobook.
"Lotus and Lily Go to the Park" is a fun story featuring a happy family, that introduces children to colors, sight words, numbers in two forms and family values. The audiobook, narrated by their then 6 and 4yr old children, is great as a companion piece to the paperback or eBook and allows the story to be told by children for children.
The mission of the book and audiobook is to promote early childhood literacy, build a diverse library and reduce screen time by producing a fun and useful gift. Malcolm illustrated the original characters and pictures, while Denise edited and colored the illustrations. The married team from Chicago were inspired by their children to create something that would inspire them, allow them to display their creativeness and strengthen their bond.
The audiobook may be ordered on iTunes and Amazon/Audible and the paperback and eBook may be ordered on Amazon.com (https://amzn.to/2EwqOTF). Physical CD copy of the audiobook may be ordered individually or as a package with the book by emailing johnsonjrfamilybooks@yahoo.com
They have represented their book at several book fairs and are currently planning their next project and Denise has had several articles published by online blogs. She may be contacted by email for affordable blog features or free podcast features on related subject matter including parenthood, motherhood, small business, self development and early childhood education.