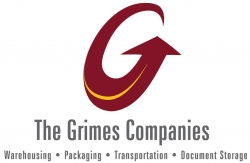 Jacksonville, FL, April 15, 2008 --(
PR.com
)-- The Grimes Companies, a leading Jacksonville based logistics and supply chain provider, has reported its strongest period in company history for the first quarter of 2008. Identified by the Jacksonville Business Journal in 2007 as the 9th fastest growing company in NE Florida, Grimes set new records for both gross sales and bottom line performance with total sales for the first quarter of 2008 up over the same period the year prior by nearly 60% and by 20% over the 4th quarter of 2007. An expanded service portfolio and improved technology infrastructure strengthened the corporate position despite current general economic trends.
The Grimes Companies has successfully positioned itself as an attractive answer to companies needing a complete logistics solution and a superior level of client service.
"We are extremely pleased with the performance of the company in the first quarter. Positive results like these both validate the business model and speak to the confidence our clients have in the company to service their needs," commented Michael O'Leary, the company's president. "In a period of economic uncertainty you can still be successful if you maintain a focus on service and performance," he added.
Jim Meekins, Director of Administration, who has been with the company for over 20 years, was pleased but not surprised by the start to 2008. "For several years the company has worked to develop new services in anticipation of its clients' needs, and it is natural that those added services have resulted in a stronger and more competitive company," stated Meekins.
"This quarterly performance in a suspect national economy confirms the importance of our relentless focus on our customers, whose needs are paramount," said Thomas Grimes, owner of The Grimes Companies. "That includes the development of our team of people, who consistently overachieve in the delivery of services to both our clients and their customers." Grimes, now retired, maintains a sharp interest in the company started by his family three generations ago.
The company will continue to focus on developing its expanded services to clients as well as entering into new markets in 2008 and 2009.
The Grimes Companies, a Jacksonville, Florida based company, currently operates both public and contract warehouses in Florida and Maryland. As a single-point solution for logistics and supply chain needs, The Grimes Companies provides warehousing, transportation and packaging services to its clients. FileSafe, Inc., a wholly-owned subsidiary of The Grimes Companies, offers document storage services to businesses in Northeast Florida.
###