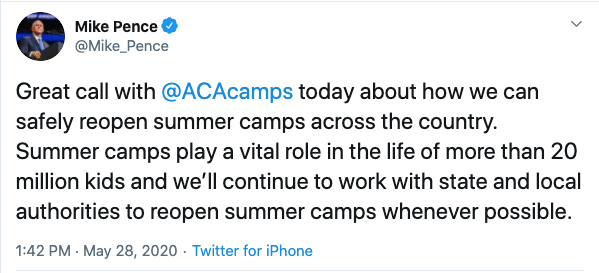 Martinsville, IN, May 31, 2020 --(
PR.com
)-- The American Camp Association (ACA) was grateful to be invited by the Vice President to discuss the impact of COVID-19 on the industry and ACA's educational resources, including the Camp Operations Field Guide for Summer 2020 developed by Environmental Health & Engineering, Inc. (EH&E), a Boston-based consulting firm specializing in environmental health.
Vice President Pence was joined by White House Coronavirus Response Coordinator Dr. Deborah Birx, who discussed best practices to get as many children back to camp as possible this summer. Assistant Secretary of the Treasury Michael Faulkender provided an update on a recent clarification of the Paycheck Protection Program enabling seasonal employers, including camps, access to the forgivable loans.
More than 20 million children attend camp each summer in the United States for the opportunity to gain important life skills, avoid summer learning loss, take a break from technology, and try new activities in an outdoor environment. Camps continue to provide essential care and supervision for working parents during the summer months.
Following the meeting, Vice President Pence tweeted this statement:
ACA serves as a leading voice for child development. The coronavirus pandemic has changed our world and will continue to impact children in profound ways. This summer ACA will launch several landmark studies to better understand the impact of COVID-19 on children, families, and camps. Study findings will be available this fall.
For more information on the ACA's coronavirus resources, please visit: https://www.acacamps.org/resource-library/coronavirus-information-camps
About American Camp Association:
The American Camp Association® (ACA) is a national organization with more than 12,000 individual members and 3,100 member camps. ACA is committed to collaborating with those who believe in quality camp and outdoor experiences for children, youth, and adults. ACA provides advocacy, evidence-based education and professional development and is the only independent national accrediting body for the organized camp experience. ACA accredits approximately 2,400 diverse camps nationally. Accreditation provides public evidence of a camp's voluntary commitment to the health, safety, and overall well-being of both campers and staff. For more information, visit ACAcamps.org or call 800-428-2267.