BetterTrades Presents Free Financial Freedom Expo
BetterTrades - Take control over your future by attending free seminars that demystify stock trading.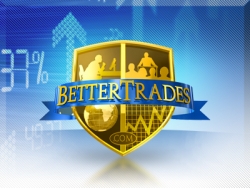 Las Vegas, NV, April 22, 2008 --(
PR.com
)-- BetterTrades™, a leader in the stock trading education industry has today announced their next series of upcoming Financial Freedom Expos. These Free seminars are planned throughout the country and offer attendees a unique way to learn more about the stock market.
These incredibly popular seminars will offer the fundamentals of trading on the stock market, providing targeted advice and assistance on learning more about how the markets work. BetterTrades also offers other types of trading education such as trading workshops, seminars, conferences and live events. Whether you are thinking about a career as a stock trader or just want to understand the system more clearly, this leading provider of educational services makes it easy.
BetterTrades' instructors and faculty are made up of successful traders who have spent years in the industry. You can sign up for any of the Free Financial Freedom Expos by visiting
BetterTrades
. Find an Expo in your area and start learning more about how you can trade on the stock market like the professionals.
BetterTrades has provided successful training to more than several thousand students. The unique system makes it easy to understand how the stock market works. With many years of combined experience, BetterTrades makes it easy for anyone to learn to trade in the stock market.
About BetterTrades – BetterTrades is an event-based organization that uses both live and online events, as well as recorded training sessions, live individual mentoring and chats, daily live online labs and published material to teach students how to trade in the stock market. The faculty is made up of veteran traders, published authors, and outstanding instructors who teach a variety of methods and strategies for trading in the stock market so that each student may choose from a menu of techniques and methods they find workable and comfortable in order to develop a successful personal trading strategy. BetterTrades offers mentoring, ongoing training and excellent tools in order to keep students engaged.
###
Contact
BetterTrades
Judy Hackett
1-800-676-4410
www.bettertrades.com

Contact