Scottish Self-Made Millionaire Secures Lloyds TSB Jewel Business Award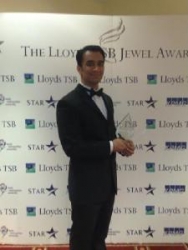 London, United Kingdom, April 22, 2008 --(
PR.com
)-- One of Britain's youngest self-made multi-millionaires has won a prestigious business and commerce award. Azeem Ibrahim, 32, whose various concerns have earned him an estimated worth of around £58m, has secured the Lloyds TSB - KPMG Business and Commerce Excellence Jewel Award 2008.
In various categories, the Jewel Awards celebrate positive contributions to the social and economic fabric of the country. Ibrahim was presented with his award at a glittering ceremony held on 19th April at The Palace Hotel in Manchester.
Glaswegian Ibrahim, who was inaugurated on to The Sunday Times Scots Rich List last year, has gained an understanding and passion for global markets that have made him one of the industry's most skilled investment managers.
Ibrahim began to accumulate wealth in 2004 when he set up a leading e-commerce facility selling international maritime, transport and logistical insurance online. He is also the owner of ECM Holdings, which owns the European Commerce and Mercantile Bank and other financial concerns.
His most recent venture, ECM Investment is a private equity hedge fund that has outperformed all the other big institutions, netting over 40% a year on investment. The core strategy behind the fund is to negotiate only at the highest level, cutting out all middlemen and providing multiple concrete sources of income using an exclusive list of high-level contacts.
Ibrahim aims to target high-net-worth individuals, particularly in the Gulf and the sovereign wealth funds, with a view to taking his fund to 1 billion pounds within the next ten years.
Backed by a start-up team awash with Oxbridge and Ivy League MBAs and PhDs, the fund has succeeded despite the credit crunch. Says Ibrahim, "Recent turmoil in the global financial markets has very little effect on our fund as we have multiple streams of income negotiated at the highest level with governments and multi-nationals corporations across the globe.
"Hedge funds and banks around the world are struggling due to liquidity restrictions in the international financial system. We do not leverage, as a matter of principle, and follow very strict ethical principles when investing."
Awards and recognition have come thick and fast for Ibrahim, described by peers as a brilliant young scholar, financial wizard and a gifted entrepreneur.
He was the youngest person on the Bank of Scotland Asian Power 100 List produced by Carter Anderson from 17,000 nominations and, last year, he made the Observer Courvoisier Future List of the brightest young innovators in the country.
Ibrahim has recently advised world leaders and governments, including those of the Gulf States. He was also asked to partner with Royal Family members in the Gulf, but declined, not wishing give away his finely tuned fund strategy.
He recently advised the Turkish Prime Minister on how to attract more foreign investment into his country during the current turbulence in world markets. At this meeting, he was paid perhaps the ultimate compliment when the Special Advisor to the Finance Minister of Turkey described Ibrahim as 'the next George Soros' (the renowned global financier).
Not content with all that, Ibrahim is also the founding chairman of a number of charities in the UK and abroad. Most recently he launched, the Ibrahim Foundation, a private grant giving foundation which will provide funding for community and charity works after inviting applications from the public.
###
Contact
UK Media Group
Charlotte Boseley
08453370849
www.uk-mediagroup.com

Contact