Jim Hughes Hosts Art of War for Business Leaders with Legendary Champion Royce Gracie at Log Cabin - Delaney House in Holyoke MA
Brazilian Jiu Jitsu Instructor Jim Hughes and UFC, Pride, and K1 Champion Royce Gracie hold "Art of War" for business Executives at The Delaney House in Holyoke MA Friday May 16 10:30 am to 2:30 pm.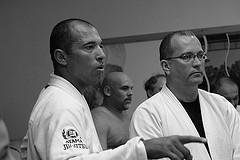 Holyoke, MA, April 24, 2008 --(
PR.com
)-- Business leaders have studied Sun Tzu's Art of War, and other works on the topic, in a effort to improve their business acumen for years. Now, a select few business leaders will have the opportunity to sit with, and pick the mind, of the most respected "modern day samurai" of all time, the Legendary fighter and UFC, Pride, and K1 Champion, Royce Gracie. This exclusive gathering will be held Friday May 16 2008 at the Delaney House in Holyoke MA.
Royce Gracie, entered and won the early Ultimate Fighting Championships (UFC) using his family's own brand of martial art, Gracie Brazilian Jiu Jitsu. Fighting people over 100 pounds heavier, he did not appear to have a chance. However, he made history in his historic performances and will be ready to share the secrets of his strategy and mental preparation that propelled him to super star success.
"Royce Gracie has something to say that will help each participant achieve their next level of success and be able to deal with great success effectively" says Jim Hughes, adding, "Royce went on from the UFC to selling out stadiums with over 60,000 seats in Japan and he returned to the UFC last year as the biggest draw in pay per view history. His business success is amazing and a lucky few will get to sit with us in an small intimate setting and reap the rewards."
The event will include a hands on, low impact, self defense training session that will serve as a foundation for discussion on Art of War business strategy. Following the training will be an gourmet meal at The Delaney House prepared by Chef/Owner Mick Corduff, set up in a private room over looking the grounds. The Delaney House is an elegant wedding and corporate event facility located in Holyoke MA just north of Springfield and Hartford and serves clients from CT, MA, NH, VT, RI, and NY.
A small group round table discussion of the Art of War in Business will reveal the secrets of your next greatest success. Jim Hughes says. "I guarantee your life and your business will never be the same. I am confident in this because I have seen it in myself, and in my students who have achieved great success in their businesses after applying the Royce Gracie Jiu Jitsu Mentality in their business and family life."
Question: "How would the Ultimate Fighter solve your business problem or handle your wildest success? What is the secret to coming out on top in any difficult competition? Answer: "Find out May 16″ says Jim Hughes "at the Royce Gracie Art of War in Business Leader Roundtable.
For more information go to
http://gracie-jiu-jitsu.com/art-of-war-with-royce-gracie/
Jim Hughes is one of 12 Black Belts promoted by Royce Gracie in his family's martial art and Royce's most prolific Student with 11 Academies throughout New England with headquarters in West Hartford CT at 262 Park Road 860 233 3000.
###
Contact
Oasis
Judy Mulkern
860-233-3000
http://www.gracie-jiu-jitsu.com

Contact