Home Plans Unveiled for Groves Park Commons Traditional Neighborhood Development
Builder Mike Stevens and partner Jon Stevens announce home plan designs for the Groves Park Commons Traditional Neighborhood Development.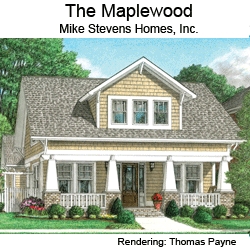 Knoxville, TN, April 28, 2008 --(
PR.com
)-- Developers of the Groves Park Commons are pleased to announce builder Mike Stevens and his partner and project manager, Jon Stevens, have completed six innovative Carriage home designs. These unique homes and their variations are the collaborative creation of Mike Stevens and 35 year home designer veteran Jerry Eschman. Mike Stevens Homes, Inc. is considered one of the premier/experienced builders of Traditional Neighborhood Development (TND) homes in East Tennessee. The home designs and floor plans can be viewed on the Groves Park Commons website, www.grovesparkcommons.com.
In February 2008, Stevens and the developers of The Groves Park Commons joined forces in creating this Traditional Neighborhood Development located in Oak Ridge, Tennessee, after all parties discovered a mutual concern for and regard of the importance of research in new urbanism community developments. Walter Wise, the primary visionary behind the project, says of Stevens, "Anyone can build a home on a small footprint, but not anyone can build on a small footprint and maintain the home features today's families demand. Mike has somehow managed to get all that right- aesthetics, space, functionality, and privacy. The design encourages community and family. When I saw his homes, I knew he was the builder for us. His extremely well thought out details are what make his homes genius."
Mike Stevens has been researching Traditional Neighborhood Developments over the last 15 years. He has made it a point to visit as many TND's as possible. When it comes to the exterior design of Groves Park Commons, Stevens likes to borrow a line from English philosopher George Moore, "A man travels the world over in search of what he needs and returns home to find it." All of the home designs have been inspired by the local architecture of East Tennessee. Stevens says, "The beauty of using the local architecture is the homes immediately blend into the community and instantly give a person that comfortable feeling of being at home." Stevens also explains one of his techniques in building on a small footprint and still providing privacy. Each of the homes has its own courtyard. He refers to the wall from the home that opens up to the courtyard as a "light wall". The light wall is a quite literal name. This wall of the house gets its primary outdoor light from a "wall" of doors, large windows, etc. that open to a courtyard. He calls the neighboring structure's wall that is adjacent to the aforementioned courtyard the "dark wall". This wall has transient windows set high (above eye level) to allow light into the adjacent home, while lending the courtyard privacy. Stevens also explains one of the more popular known facts of a Traditional Neighborhood Development is it must be designed to be a walking community. With this goal in mind, Stevens has designed all of the homes to situate the less attractive aspects of home, such as the garages, trash receptacles and utilities, in the back alleyways - thus keeping the front of the homes neat, clean, and beautiful.
Mike Stevens will be building three basic categories of homes for the Groves Park Commons Development. The three types are Estate Homes, Carriage Homes and Cottage Homes. Estate Homes are essentially custom homes over 3,200 square feet. The Carriage homes will be 2,200 to 3,200 square feet and the Cottage Homes will be 1,600 to 2,200 square feet. The floor plans for the Carriage Homes are now complete and available on the Groves Park Commons website. Jerry Eschman Home Designer is scheduled to finish the floor plans for the Cottage homes in May of 2008. Builders Christopoulos & Kennedy will be completing plans for Townhomes designed by Architectural firm Brewer, Ingram, Fuller in late Spring 2008.
Wise is careful to see this neighborhood adheres to all principle design and layout elements of a TND, such as a mandatory requirement for a certain square footage area of communal green space. In fact, Wise increased the already generous required allotment to further embrace the vision. Of this meticulous attention to detail, Wise reflects, "We want to create Oak Ridge's own little utopia."
The 325 housing unit development named, "Groves Park Commons" is being constructed on the Old South Hills Golf Course site located at 795 Tuskegee Dr., Oak Ridge, TN 37830. Phase One of the three phase project is underway now, with the expectation that the approximately one hundred units of single family homes and townhomes are to be completed over the next two years.
Groves Park Commons is now actively selling homes. For sales inquires please call Sharon Power, REALTOR® of Realty Executives at (865) 482-3232.
###
Contact
Groves Park Commons
Sharon Power
(865) 482-8949
www.grovesparkcommons.com
Abacus Creative Management, LLC
(865) 386-7860

Contact