Monet's Palate - Claude Monet
Claude Monet had two passions art and food and both meet at Monet's Palate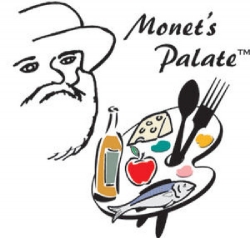 West Orange, NJ, April 29, 2008 --(
PR.com
)-- Monet's Palate ™ -The Perfect Blend of Art and Good Tastes™
The Beauty, Aesthetic, and Cuisine of Normandy Captured in One Luxurious Lifestyle Brand
Film, Food, Wine & More Bring Claude Monet's Giverny
to Glorious Life … at Home
What do Meryl Streep, Steve Wynn, Daniel Boulud, Barbara Lazaroff, Alice Waters and Claude Monet among others all have in common? They are all part of the world of Monet's Palate. Aileen Bordman has created Monet's Palate out of her passion for Normandy, and is committed to bringing the wide-ranging aesthetic sensibility of perhaps its most famous resident—Claude Monet, the father of Impressionism—to life. She's developed the luxury brand called Monet's Palate™ to license and distribute an array of fine cuisine and beverages evocative of those that would have been enjoyed by Monet in that wonderfully rich region of France (and especially at Giverny, his home and gardens for more than 40 years).
To launch the endeavor, Bordman created, wrote, and executive-produced a highly praised 60-minute documentary film—Monet's Palate: A Gastronomic View from the Gardens of Giverny—with a narration by Meryl Streep. It depicts the beauty of the region as well as the artist's relationship to the pleasures of the table. Presented by Las Vegas PBS affiliate KLVX, it premieres on March 27 then April 20 on WNET New York City PBS before distribution nationally by American Public Television.
Additionally, her team produces special dinner events featuring food and wine pairings that recreate some of the meals Monet and his illustrious guests enjoyed at Giverny. Bordman is also writing a book, tentatively titled Monet's Palate: The Art and Food of Normandy. Aileen is also in the process of forming her first Board of Directors, which thus far includes heavy hitters such as Barbara Lazaroff famed Restaurateur and designer of Spago et al, and co-partner of many Wolfgang Puck/Barbara Lazaroff entities. President of Imaginings Design Inc a firm focused on the creative design of space and products. Richard Klein, creative force, founder and publisher of Surface Magazine; and David Kalman, responsible since the beginning for the original branding and marketing of Newman's Own Products for Paul Newman.
"Everyone knows Monet's art," says Bordman, a seasoned Wall Street investment professional whose passion to create a film about Claude Monet's lead to the founding of AFB Productions Inc., the independent film company that owns the Monet's Palate trademark. "But it turns out that he cared about everything on the table. He chose the flowers; he created menus with his chef using vegetables and herbs from his own garden; he even designed his own Limoges place settings. Most of all, he was a splendid host and a serious food lover who insisted that guests bring recipes when they came to his house."* Bordman's affinity for Monet and Normandy are longstanding and familial: "I grew up immersed in the world of Claude Monet," she says. Her mother, Helen Rappel Bordman, helped restore the gardens at Giverny and has resided as the founder of the Volunteer program at Monet's home every spring since 1980 welcoming special visitors to Monet's world.
The film takes viewers on a culinary and historical pilgrimage to the epicenter of Impressionism, located just north of Paris. This "palette to palate" journey features a tour of Monet's home and gardens with emphasis on the relationship between food and art. Monet's Palate includes commentary and food preparation from culinary and cultural luminaries including chef/author and restaurateur Alice Waters; MOMA Curator Joachim Pissarro (great-great-grandson of artist Camille Pissarro, a contemporary of Monet's ) Chef Daniel Boulud (Daniel, Café Boulud);Las Vegas hotelier Steve Wynn (who allowed his vast private collection of Impressionist art to be filmed); and others.
* Food Arts, 4/07
Bordman's vision for her integrated lifestyle brand is off to a running and dynamic start. "We're actively seeking licensing opportunities with companies to create food and beverage products in the spirit of Monet's Normandy and Giverny, such as teas, cheeses, pastries and liquors," she states. These trademarked products—along with products such as flowers, tableware, and art—are featured for retail distribution at www.monetspalate.com. In addition to the film, AFB has already released Monet's Palate Cabernet Sauvignon and Monet's Palate Chocolate Couture in such flavors as Creamy Calvados (the apple-flavored brandy of Normandy), which are wrapped in papers with colorful depictions of the artist's water lily pond. Both products have garnered highly favorable reviews.
"I want to bring a little bit of Monet's world, especially the cuisine he enjoyed, to everyone," she concludes. "The region has amazing ingredients—Camembert cheese, Calvados brandy, apples, the best crème fraîche and butter in the world. Normandy's colors and flavors will be fashioned into a multitude of food and beverage products … the possibilities are limitless. My goal is to help people create a Giverny of their very own just like Claude Monet, and do for Normandy what A Year in Provence and Under the Tuscan Sun did for those special places."
###
Contact: Aileen Bordman
1.800.457.0563
afbinc@comcast.net
Contact
AFB Productions Inc
Aileen Bordman
1-800-457-0563
www.monetspalate.com

Contact