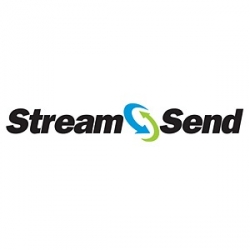 Sacramento, CA, May 06, 2008 --(
PR.com
)-- After growing its client roster by 121% in the past year, StreamSend now offers over a thousand more organizations the advantages of "enterprise-level features at low, affordable prices," an approach that is translating into highly cost-effective email marketing campaigns for marketers in many industries.
"Hands down, nobody could compete with StreamSend," said Jason Marrone, e-commerce manager at Jelly Belly. "It was far and away the most cost-effective solution we found, easy to use with powerful features that make our emailings more successful at a fraction of the cost."
Services
StreamSend has steadily introduced services as part of its ongoing commitment to breakthrough customer satisfaction, including:
• API – An advanced application programming interface that dramatically improves, simplifies and expands email marketing possibilities for both clients and resale end-users. Lets clients manage & sync subscriber data, create their own application using StreamSend functions and data, create a unified login with other applications, streamline message creation and distribution, and automate sales efforts with lead data.
• Weekly email deliverability webinars – Ongoing customer education that can significantly improve the percentage of permission-based email communications successfully reaching their destination.
• Google Analytics integration – Capability that gives customers access to advanced campaign tracking and data analysis features – for free.
• UK services – Streamlined site and customer service so that United Kingdom businesses can take full advantage of email marketing resources from StreamSend.
• Partnership with Habeas – Teamed up with this leading whitelist and email reputation service provider, boosting email campaign inbox delivery and reducing the likelihood of content triggering a spam filter.
Staff
To sustain this growth and continue to maximize the value of its services to customers, StreamSend has recently added numerous staffers:
• Kathryn Klammt and Robert Rodriguez have joined the StreamSend sales team.
• Louis Chatoff, formerly of Lyris, Inc., is now manager of deliverability & ISP relations.
• Mark Armistead is support manager.
• Greg Weber is Web applications developer.
• Olga Reid and Ray Erdmann are customer support representatives.
"Marketers have reached the point where they really want to put email to the test," said Dan Forootan, chief executive officer of StreamSend. "They want intuitive, easy-to use tools to run campaigns that will cost-effectively reach both their prospects and customers. And they want to reach the most inboxes possible while steering clear of the Spam label. Delivering solutions to each of these challenges is driving our success."
About StreamSend
The
StreamSend Email Marketing Service
is the most comprehensive and cost-effective permission-based e-mail marketing suite available, used by marketers, entrepreneurs, online retailers and resellers around the world. StreamSend offers a number of industry-leading, standard pricing plans and also has a strong email marketing reseller program. StreamSend is the flagship product of web hosting and design company EZ Publishing, founded in 1998.
###