ForceLogix Announces the Release of New Sales Performance Management Coaching Solution
ForceLogix, the leading provider of sales performance management optimization solutions, has released a best in class sales coaching module designed to support all sales methodologies worldwide.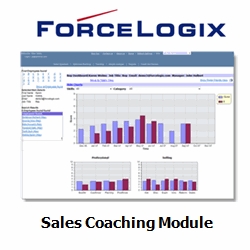 Chicago, IL, May 08, 2008 --(
PR.com
)-- ForceLogix, www.forcelogix.com the leading provider of sales effectiveness solutions for sales management, today announced the release of their state-of-the-art Enhanced Coaching Performance Module. The solution provides an on-demand, globally accessible sales coaching tool to improve sales management's ability to develop its sales talent and drive more revenue.
As cited frequently by leading analysts and sales methodology solution providers, coaching is one of the most critical responsibilities of front line sales management, yet it is also one of the weakest competencies. ForceLogix' Enhanced Coaching module provides a consistent coaching platform that empowers sales management to turn coaching from an erratic and under-utilized function to an easy to apply best practice. According to leading sales performance management research firms such as Ventana Research, The Sales Executive Council (SEC) and Gartner, consistent sales coaching can increase sales productivity up to 20%.
Mark Smith, President of Ventana Research indicates "The new module introduces the capability to electronically track coaching in order to improve behavior based on a defined set of objectives and required skills. Using the ForceLogix tool, managers can establish a baseline of sales competency required to achieve sales targets; as a result, they can rapidly assess both the readiness and the potential of their sales organization. Linking this baseline to sales objectives at the individual and group levels yields readiness metrics for the sales organization."
Innovex, a leading contract sales outsourcer to the pharmaceutical industry, recently won the Operational Performance award at Ventana Research's 2007 Performance Management Leadership Awards for their implementation of ForceLogix' Enhanced Coaching Performance module. Innovex managers on six continents are able to securely and rapidly share information to better coach their field teams and serve customers using the application.
"ForceLogix' technology allows us to deliver a multilingual coaching process that can be easily and rapidly configured and deployed globally," said Jim Kendall, Senior Director of Innovex Business Solutions. "This promotes the consistent execution of our coaching and enhances our ability to capture, evaluate and rank sales representative performance. Our goal is to help Innovex sales forces deliver higher sales for our customers." Innovex is a unit of Quintiles Transnational Corp., the world's leading pharmaceutical services company.
"We designed our new sales coaching solution empowering sales management to maximize the yield of every sales person and manager," said Patrick Stakenas, ForceLogix' President and CEO. "Anybody who runs a sales organization understands the importance of consistent coaching on the front lines, but is also painfully aware of the limited tools available today to support the function. Designed to recognize the frequent frenetic pace of front line managers, Enhanced Coaching enables full competency assessments along with documented improvement programs to drive higher sales performance for every sales individual."
About ForceLogix
ForceLogix was created to meet the needs of companies who wish to optimize and increase the effectiveness of their sales force. ForceLogix solutions enable companies to easily and affordably design, implement, manage, audit and communicate sales performance programs. By providing more effective plans and better visibility, ForceLogix customers are driving dramatically improved sales performance.
For additional information, email
info@forcelogix.com
###
Contact
ForceLogix LLC
Steve Potts
847-281-9307
www.forcelogix.com

Contact
Multimedia
This is a product data sheet on the Forcelogix Enhanced Sales Coaching Module.