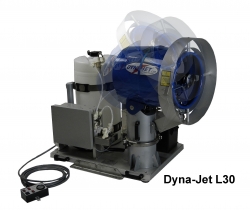 Westfield, IN, May 17, 2008 --(
PR.com
)-- Turn on the TV or pick up a newspaper or magazine and the headlines all have a similar theme: "Record Oil and Gas Prices." One small company situated in the middle of acres of Indiana corn has addressed the problem head on. Curtis Dyna-Fog, Ltd. located in Westfield employs less than 100 people. While seemingly small, this small town company is doing things on a worldly scale… and in a very big way. CDF, formed more than 60 years ago, has been in Westfield since the mid 50's and sells to more than 80 countries with its products reaching every continent.
In 2000, to combat the growing problems with gas and oil prices, CDF took on a major research project… developing electric technology as an alternative to using gasoline engines. One particular market, "Mosquito Control" has played a major role in driving the advancements in this technology. In many parts of the world, controlling mosquitoes and their transmitted diseases is essential to sustaining life. "With Malaria, Encephalitis and a host of other vector born diseases, people simply can't live in many parts of the world without mosquito control," says company President Conrad McGinnis. With gasoline and oil prices sky rocketing, McGinnis and company began focusing on improved methods of addressing the problem. One such method led to the development of an all electric vehicle mounted sprayer known as the "Dyna-Jet L30". According to Dennis Roudebush, VP, Engineering "The L30 uses technology unlike any other sprayer in the world. No oil or gasoline is consumed, therefore, no exhaust fumes are created and it is so quiet that you can barely hear the machine operate". Evolving into its 3rd generation over the last 7 years, the L30 uses what is known as "Brushless" motor technology to spin a high tech atomizing disc over 30,000 revolutions per minute…that's 500 times per second! It takes this speed to create the energy needed to fully atomize the liquid being sprayed; this task normally requires an 18-20 horsepower gasoline engine and an expensive heavy blower. According to Domestic Sales Director Matt Tandy, "The savings in gasoline and oil alone justify the purchase for many cities. For taxpayers it is a welcome change to see their local community being environmentally responsible while at the same time reducing costs." And for the rest of the world "in many countries gasoline is difficult to find or extremely expensive. The L30 has opened up an entire new market for us," explained Don Grayson, VP, International Sales. If you want to go a step further, the L30 can even be outfitted with the Dyna-Trax GPS system for full tracking of areas that were sprayed. With the L30 everybody wins, except for the mosquitoes of course.
To see more on Dyna-Fog and the L30 visit: www.dynafog.com/L30green or contact Curtis Dyna-Fog, Ltd. at: (317) 896-2561.
###