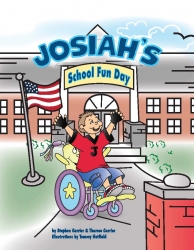 Franklin, TN, May 20, 2008 --(
PR.com
)-- A newly-released children's book, Josiah's School Fun Day tells the first story about Josiah and his best friend Wheely. With Josiah's remarkable can-do attitude and spirit, their stories bring a positive message of hope, joy and encouragement not only to the disabled, but to everyone.
The two charming illustrated characters were created by Therese Carrier
(president of HisWillBeDone Productions) to honor her brother who was
wheelchair-bound. He passed away in 2004. "I wanted not only to honor
Joe," she says, "but to create characters that would encourage and support
those with special needs."
Part of the proceeds from sales of the book will be distributed by
The Josiah Foundation to assist those across the U.S. who have physical or mental development disabilities. The Josiah Foundation is a qualified
IRS Section 501 (c) (3) non-profit organization.
Josiah's School Fun Day will be displayed this year at several book exhibits including The American Book Expo in Los Angeles. The book is now available
for purchase through distributor AtlasBooks at 800-247-6553 or fax 419-281-6883. The book can also be purchased on the website.
To visit the Josiah website please go to http://www.hwbdproductions.com
Contact:
Therese Carrier, President
HisWillBeDone Productions
2020 Fieldstone Parkway
Suite 900 PMB 121
Franklin, TN 37069
615-390-9490 - mediaroom@hwbdproductions.com
Website: hwbdproductions.com
###