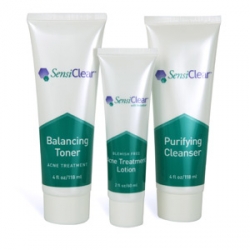 Menlo Park, CA, May 21, 2008 --(
PR.com
)-- Many people think that laying out in the sun will help clear up pimples, but dermatologists generally agree that although a little sun may help dry up pimples, too much sun may aggravate the problem.
Summer sun worshipping causes special problems for those with acne who avoid sunscreen because they think it clogs their pores. Without the protection of a good sunscreen, sunburn can damage skin and reduce skin's elasticity and cause early wrinkling. Later on, too much sun can lead to problems such as early wrinkles, age spots and even skin cancer.
What is the answer to the acne problem in the summer or anytime? Charles Benard, Chief Marketing Officer for Mission Scientific says that the real answer is SensiClear Acne Treatment System. "This is the most advanced acne skincare treatment that can be purchased without a prescription," said Benard. "SensiClear with Retextra helps visibly retexture your skin and gives it a healthy glow without baking in the sun."
"Unlike systems such as Proactiv, the SensiClear system is the only acne treatment system with the exclusive patented ingredient Retextra," Benard added. "SensiClear treatment lotion with Retextra® has the ability to penetrate and unclog pores, while simultaneously smoothing and softening the skin's surface."
While enjoying the sun in moderation is okay, one should be sensible about not overdoing it. "Self tanning products are a logical alternative," said Benard. "However, we don't recommend using these on specific areas of the skin that are being treated for acne," he said. "Although they are generally well tolerated, some individuals may be sensitive to dihydroxyacetone (DHA), which is the primary ingredient in self-tanners."
About SensiClear –
www.SensiClear.com
SensiClear Acne Treatment System consists of three easy to use products: a purifying cleanser, a balancing toner and the revolutionary blemish-free treatment lotion featuring the exclusive patented ingredient Retextra.
About Mission Scientific, Inc.
Mission Scientific Skincare is venture backed and headquartered in Menlo Park, CA. The company is dedicated to developing leading edge skin care solutions utilizing the latest patented technologies.
###