NatureKue Introduces Nafliva LiverSmart - Dark Chocolate with Peppermint Flavor Dietary Supplement Supports Healthy Liver Function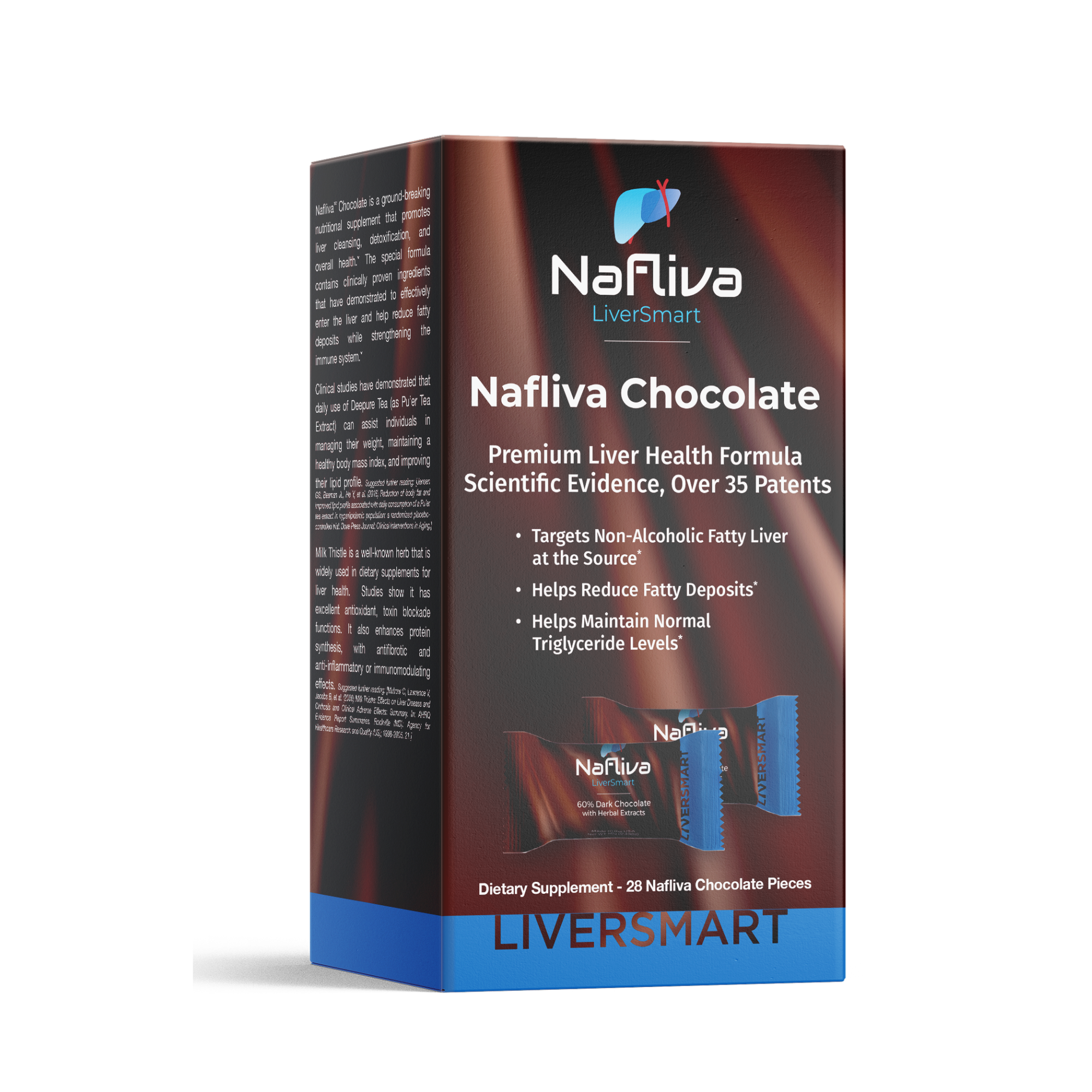 Rockville, MD, February 23, 2023 --(
PR.com
)-- NatureKue today introduced
Nafliva LiverSmart
(also known as Nafliva Chocolate), a patented, clinically researched nutritional supplement that promotes healthy liver function while tempting your taste buds with a rich, dark, minty-flavored chocolate.
Nafliva LiverSmart's key active ingredients are a patented combination of pu'erh tea – known as Deepure Tea extract – and silybin from milk thistle. Scientific research indicates that this combination supports healthy fat metabolism in the liver; helps balance blood sugar; and supports healthy cholesterol and triglycerides through the maintenance of blood lipid levels already within a healthy range.
That makes the availability of Nafliva LiverSmart good news, because fatty deposits in the liver can lead to a condition called non-alcoholic fatty liver disease (NAFLD) – and, according to an article in the "Harvard Health Blog," "Non-alcoholic fatty liver disease (NAFLD) ...is on the rise — it now affects roughly 20% to 40% of the US population."
Chocolate/Peppermint Flavor
Nafliva LiverSmart (aka: Nafliva Chocolate) contains 60% dark chocolate, cocoa mass, cocoa butter, natural vanilla extract, peppermint oil and soy lecithin (as emulsifier), and is made in a U.S. chocolate and confections facility.
Each piece of Nafliva chocolate weighs 10 grams and has 55 calories. It also contains iron, potassium, vitamin D, and zinc. NatureKue recommends taking one Nafliva LiverSmart chocolate daily (not to exceed four pieces daily), and for best results, taking the nutritional supplement for at least three months. NatureKue recommends consulting your healthcare professional if you have any medical conditions or use any medications.
Nafliva LiverSmart – Key Benefits
The benefits of the key ingredients in Nafliva LiverSmart include:
● Helps maintain healthy liver function.
● Promotes healthy fat metabolism and inhibits liver fat synthesis.
● Promotes blood-sugar balance, weight management, and a healthy blood lipid profile.
● Supports healthy cholesterol and triglycerides through the maintenance of blood lipid levels already within a healthy range.
Clinically Researched and Scientifically Backed Formula
Deepure Tea extract, a key ingredient in Nafliva LiverSmart, has been the subject of scientific studies backing the ingredient's effectiveness.
In one, 59 overweight subjects participated in a randomized, double-blind, placebo-controlled study. It found that consumption of Deepure Tea extract was associated with statistically significant weight loss when compared to placebo. Subjects showed fat loss in their arms, legs, and the gynoid region (hip/belly), as well as for total fat mass. The study concluded that the daily consumption of Deepure Tea extract was associated with significant weight loss, reduced body mass index, and an improved lipid profile.
In another study, 90 patients with metabolic syndrome were randomly divided into two groups, a placebo group and an intervention group administered Deepure Tea extract.
After three months' treatment, body mass index, waist hip ratio, blood lipids, blood sugar, immune and inflammatory index, and oxidation index of the patients with metabolic syndrome were tested and analyzed.
In the intervention group, the body mass index, waist-hip ratio, fasting and 2h postprandial blood glucose, serum total cholesterol, triglycerides, low density lipoprotein and apolipoprotein B-100 all decreased in the patients with metabolic syndrome.
About NatureKue
NatureKue is dedicated to developing and delivering dietary supplements that support long-term health, based on traditional herbal medicine and backed by science. NatureKue is FDA-registered and ISO 14644-1-accredited, and is in the cGMP compliance process. For more information on NatureKue and its high-quality dietary supplements, visit the NatureKue website.
References
● Jensen, G. S., Beaman, J. L., He, Y., Guo, Z., & Sun, H. (2016). Reduction of body fat and improved lipid profile associated with daily consumption of a Puer tea extract in a hyperlipidemic population: a randomized placebo-controlled trial. Clinical Interventions in Aging, 11, 367–376.
● Chu, Song-Ling; Fu, Hong; Yang, Jin-Xia; Liu, Geng-Xin; Dou, Pan; Zhang, Liang; Tu, Peng-Fei; Wang, Xue-Mei (2011). A randomized double-blind placebo-controlled study of Pu'er tea extract on the regulation of metabolic syndrome. Chinese Journal of Integrative Medicine, 17, 492-498.
Disclaimer: The Food and Drug Administration has not evaluated the statements made regarding these products. This press release is not intended to be a substitute for professional medical advice, diagnosis, or treatment. Please check with your doctor. The news site hosting this press release is not associated with NatureKue, Inc. It is merely publishing a press release announcement submitted by a company without any stated or implied endorsement of the product or service.
Contact
NatureKue
Steven Drake
301-680-0585
https://naturekue.com

Contact