Controlled Growth Agriculture Technology Improvement
Integration of Organic Hydroponic Greenhouse Cultivation Enhanced by Atmospheric Water Generators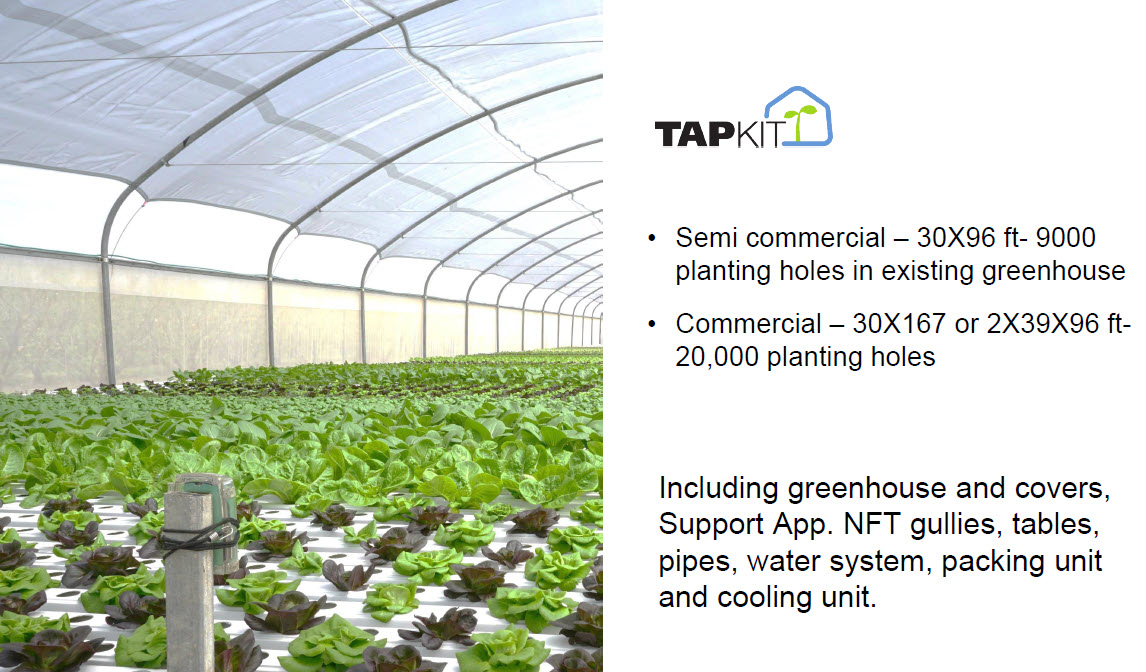 Round Lake, IL, January 24, 2023 --(
PR.com
)-- Green Technology Global, Inc. announces a joint venture with Teshuva Agricultural Project (Israel) to expand market presence for the TAPKIT Hydroponic Kit for organic leafy greens.
TAP has over 23 years experience in developing a complete system that includes the Greenhouse customized structure, Growing System, Irrigation System, Electrical System and SmartAPP remote management. The TAPKIT is a micro-farming unit to be operated by 1 to 2 workers. The system can be provided as a turnkey or retrofit of existing greenhouses. It enables multiple grow cycles over the year. TAPKIT models are available for cold climates, desert climate, tropical and sub-tropical conditions.
Enhancing this "green technology" that is impervious to the climate is the inclusion of Point of Use Decentralized Delivery Atmospheric Water Generators that are 100% independent of polluted or harmful groundwater and has Zero Impact on the environment.
TAPKIT Hydroponic Systems Ltd. is a subsidiary of the Israeli-based Teshuva Agricultural Projects (TAP) Ltd. A 2nd generation agricultural company which possesses vast experience in CEA including nurseries, plant propagation, vegetables in soilless culture, hydroponics and microgreens. TAP has installed and operated greenhouses in North America, South-East Asia, Israel, Western Europe as well as in remote exotic islands and more. TAP's holistic approach combines careful engineering of the greenhouse and growing system with best-practice growing methods and go-to-market strategy for the crops grown. TAP's perfect track record of successful operations globally, differentiates TAP from other greenhouse/equipment suppliers.
TAPKIT Brainshark Presentation
https://www.brainshark.com/mrb/vu?pi=zHrzBWKLwzFsfXz0
For further information visit
https://www.greentechnologyglobal.com/farming.htm
Contact
Green Technology Global, Inc.
Allan M Olbur
224-425-9236
https://GreenTechnologyGlobal.com

Contact