Scottsdale Camelback Resort Awarded the RCI Gold Crown Resort® Property Designation Based on Guest Feedback
Resort honored for excellence in accommodations, hospitality and RCI subscribing member experience.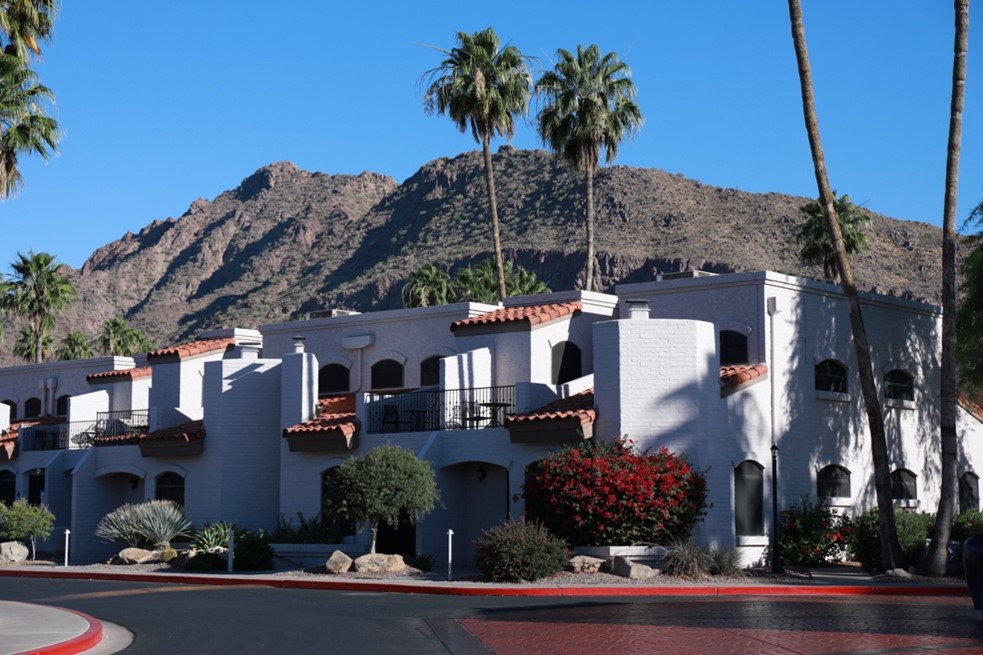 Scottsdale, AZ, February 17, 2023 --(
PR.com
)-- Scottsdale Camelback Resort today announced it has earned the prestigious RCI Gold Crown Resort® designation by RCI®, the world's premier vacation exchange company.
Scottsdale Camelback Resort was among a select number of RCI affiliated resorts to meet the requirements for this annual distinction as part of the RCI Resort Recognition Program®. RCI Gold Crown Resorts have attained the highest levels of excellence in resort accommodations, hospitality and member experience ratings as measured by RCI through guest feedback and an evaluation of the resort's amenities, unit amenities and guest services.
"It's an honor to be awarded RCI Gold Crown Resort status just once," said Julie Witt, Scottsdale Camelback's general manager. "To earn it for more than 30 consecutive years is a testament to our team's hard work, dedication, and attention to even the smallest details. And the pride that the team demonstrates daily is felt by our owners — this truly is a home away from home for them."
"We are thrilled to recognize those who have attained the RCI Gold Crown designation, and we are proud to be affiliated with Scottsdale Camelback Resort," said Richard Ruff, senior vice president and managing director of RCI North America. "As the worldwide leader in vacation exchange, RCI holds high standards for our affiliated resort properties, and the RCI Resort Recognition Program helps ensure these resorts consistently deliver fantastic vacation experiences to RCI subscribing members."
The RCI Resort Recognition Program highlights affiliated resorts that meet or exceed the program's high standards by providing exceptional vacation experiences to both timeshare owners and guests. Within this program, RCI has established three distinguished rankings, RCI Gold Crown®, RCI Silver Crown®, and RCI Hospitality®, which are determined annually using the rigorous criteria established by the company. Resorts that receive these distinctions have demonstrated an ongoing commitment to quality and consumer satisfaction through superior performance as measured by customer feedback.
To learn more about the RCI Resort Recognition Program, please visit www.rciaffiliates.com.
About Scottsdale Camelback Resort
A Vacatia-managed property, Scottsdale Camelback Resort is ranked in the top 10 among nearly 100 Scottsdale resorts, according to TripAdvisor. Located at the base of Arizona's Camelback Mountain, the resort is just minutes away from world-class golf courses, hiking trails, high-end shopping, and numerous dining options. The resort's 111 units — ranging from studios to three-bedroom villas — offer all the comforts of home, including a kitchen, living and dining spaces, and a washer and dryer. On-site amenities include the Running Water Spa; Splash Restaurant; a movie theater; a heated pool and hot tub; pickleball, tennis, volleyball, bocce, and cornhole courts; a minigolf course; a fitness center; a mile-long walking trail; and a meditation labyrinth. For more information, go to scottsdalecamelback.com or the resort's Facebook page.
About RCI
RCI® is the new shape of travel™. As the worldwide leader in membership travel services to the vacation ownership industry, the company offers the industry's leading vacation exchange platform to its 3.7 million members around the world, providing access to 4,200 affiliated resorts in approximately 110 countries. RCI Travel offers enhanced travel services allowing its members to flexibly travel year round. RCI is a part of the Panorama family of travel brands at Travel + Leisure Co. (NYSE:TNL). For additional information visit rci.com. RCI also can be found on Facebook, YouTube and Twitter.
Contact
Vacatia
Michelle DuChamp
305-903-9399
vacatiapartnerservices.com

Contact