Ultimate RepairX™, a Game Changer in Topical Pain Relief and Sports Recovery, Launches in the US
Alleviating pain and inflammation from sports injuries makes URX a perfect match for the Professional Pickleball Association (PPA) and they are a proud sponsor of the PPA Tour in 2023.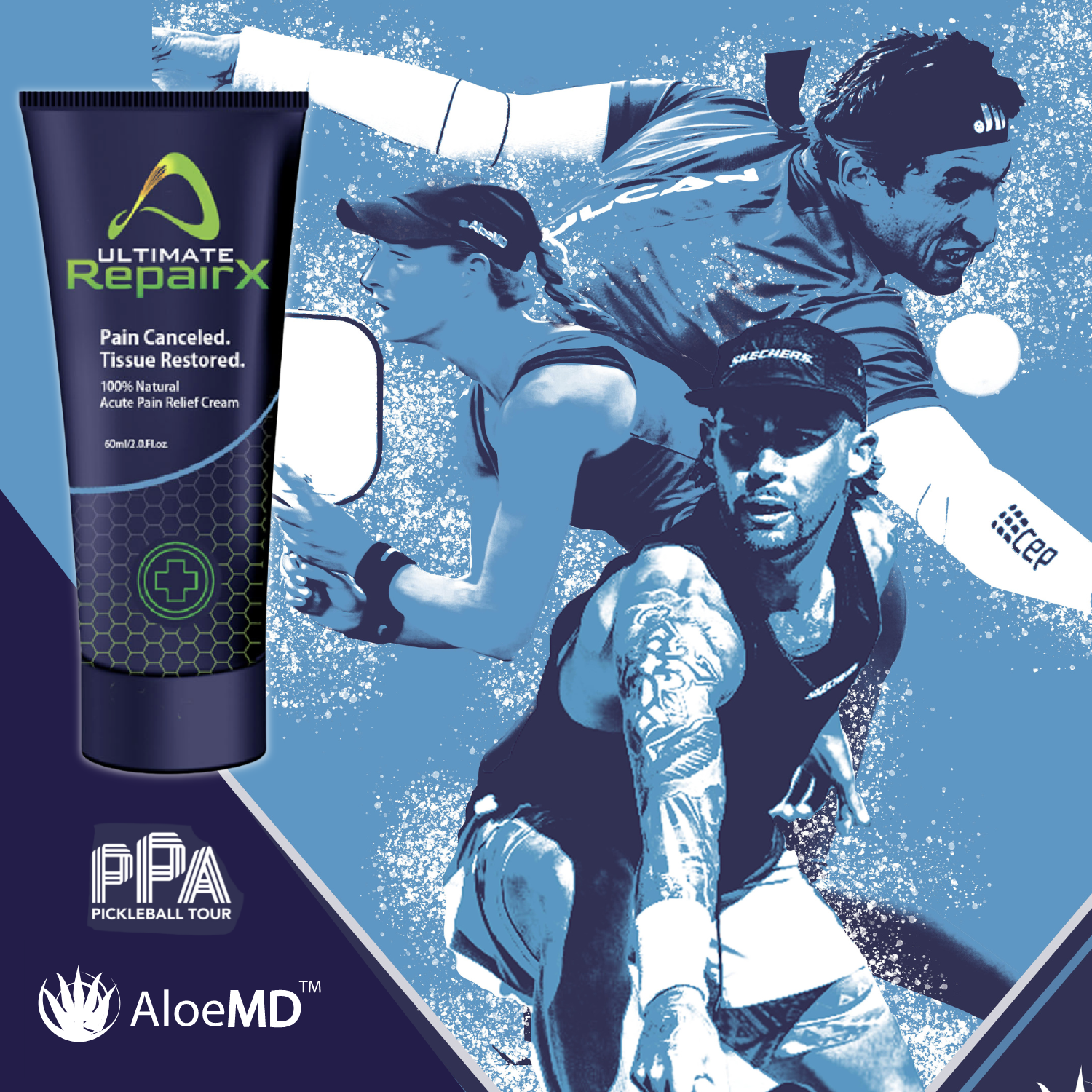 Keller, TX, March 07, 2023 --(
PR.com
)-- One of several products from parent company AloeMD LLC, Ultimate RepairX™ (URX) is disrupting the topical pain relief industry with a patented 100% natural clinically proven anti-inflammatory pain relief cream that doesn't mask muscle and tissue pain like other creams but stabilizes and restores tissue.
The groundbreaking product was formulated by medical doctors after decades of research and utilizes a combination of powerful pharmaceutical grade botanicals and a smart absorption delivery system. The patented matrix of bio-ceutical compounds is delivered directly into distressed tissue, working immediately to alleviate pain and inflammation, and working with your body to restore tissue naturally.
Alleviating pain and inflammation from sports injuries makes URX a perfect match for the Professional Pickleball Association (PPA) and they are a proud sponsor of the PPA Tour in 2023. The upcoming PPA Tour Stop, Florida Open in Holly Hill, FL on March 9, 2023, will be the launching pad for URX in the USA.
"URX is a perfect product for pickleball," says Christopher Hardy, founder, and CEO of AloeMD, the parent company and maker of Ultimate RepairX. "The URX Event Team attends PPA tournaments and generally treats around 100 players per day, pit crew style, at events. They treat conditions ranging from muscle pulls and strains to knee and ankle sprains, to tendonitis and foot problems like plantar fasciitis."
Top PPA Touring Pros Tyson McGuffin, Callie Smith, Jay Devillers, and Dayne Gingrich joined the URX Team as Brand Ambassadors due to their first-hand experience of the effectiveness of the product.
"I use it for pain and recovery, and I keep coming back to this – URX all day long, baby!" -Tyler McGuffin, PPA Pro
"I can't believe a product that is all natural can be so effective. It's just amazing how fresh I feel playing all 3 events." -Callie Smith, PPA Pro
"I use it for recovery during and after my matches. URX will change the way we treat pain and inflammation." -Jay Devillers, PPA Pro
"The first time I applied URX to my back, I was blown away! Within one minute, the tightness and pain of a long tournament day disappeared. I never step on the court without it." -Dayne Gingrich, Senior Pro ranked #1 in the world
Ultimate RepairX™ provides a drug free, NSAID Free, opioid free alternative for millions of people who suffer from chronic pain. A recent GPOSO consumer survey showed 90% of respondents began feeling relief after only one use and 88% of respondents saying they believe that URX™ will revolutionize the sports recovery industry.
The Company, dedicated to wellness, will be giving back to breast cancer research and causes in 2023 and beyond.
About Ultimate RepairX
The URX mission is to provide alternative solutions to modern-day health issues utilizing natural and traditional bio-modifiers. The body was designed to repair itself, and URX gives it the chance to do just that naturally, without toxic chemicals such as Opioids, Steroids, and NSAIDs.
About Aloe MD
AloeMD is a global skincare, health and wellness company that first launched in Europe. AloeMD products are certified natural and contain the therapeutic benefits of pure, natural aloe vera. An initial suite of wellness skincare products is available online at
www.AloeMD.com
and the Company has plans to introduce other portfolio wellness products in 2023 and 2024. To learn more, visit
www.UltimateRepairX.com
and www.AloeMD.com.
Media Contact and to book interviews with the pros:
AloeMD, LLC 101 E. Park Blvd. Suite 600
Plano, Texas 75074
jcorley@hwbenterprises.com
305.219.6470
Contact
HW&B Enterprises, LLC/AloeMD
Jillian Corley
305-219-6470
www.aloemd.com

Contact