Prepare for Unique Gameplay - Horizon Blast Raises the Bar for Mobile Gaming Apps
A new game app with very unique gameplay, Horizon Blast, was just launched in the app stores. Most game apps that are made today are copies of existing popular games in some shape way or form, so it's very exciting to see a game development company invent a new type of gameplay with its own features.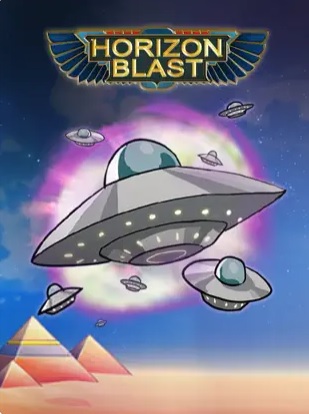 Los Angeles, CA, May 24, 2023 --(
PR.com
)-- Between iOS and Android there are roughly 500,000 mobile game apps, tens of thousands of which are copies of one another, some so similar it's hard to tell the difference between them.
That is why the launch of Horizon Blast – Alien Invasion by Undisciplined Games is something the mobile gaming world should relish. It is rare these days to see a game app with such a unique user experience and gameplay.
Horizon Blast takes users on a futuristic sci-fi journey through 10 different planets and 100 unique levels. The premise of the game is the user's home planet has been destroyed, so they must venture out in the universe to not only find a new home, but to seek revenge on the enemy.
In this classic arcade thriller, users enjoy three types of levels where they must swipe Enemies into Portals at the top of the screen, collect Artifacts by swiping and throwing Stones at them, and kill Bosses by throwing Projectiles at them. The user loses Health when Objects hit the bottom of the screen, so the challenge is keeping track of them and throwing them in the right place. Users can even earn coins by shooting Gems into the Portals, which can be used to buy lives and special Power-Ups to be used during gameplay.
With the rise in popularity of hyper casual games, there has been somewhat of a void when it comes to impressive artwork and fan favorite themes. Horizon Blast does not disappoint. With 100% unique art, Horizon Blast impresses with cool enemies, intricate bosses, custom map art, out of this world levels, historically accurate artifacts, and custom sounds effects and music, all on theme within the extremely popular genres of aliens and ancient Egypt.
The founders of Undisciplined Games, Joel Kuznetsky and Mike Maurer, have had tremendous success running a Mobile Performance Network, Discipline Digital, and felt it was time to build their own app product they can take to market.
When asked about the inspiration behind the game, Joel said, "I'm tired of seeing all these crappy games get millions of downloads, the world doesn't need 50,000 bubble shooters. We wanted to create something completely unique that people will actually love playing, and since aliens and ancient Egypt have always been a passion of mine, I thought that would be a great theme to build on." When it comes to how they see the game fitting in the current marketplace, Mike commented, "It's a super engaging game once the level starts, you can't just get distracted by something else and leave it in the background. We have done lots of testing, and the toughest critics of all, kids, seem to love it."
For people whom want to download the app to test on iOS or Android, use the links below:
iOS:
apps.apple.com/app/horizon-blast-alien-invasion/id1588981652
Android:
play.google.com/store/apps/details
Contact
Undisciplined Games, LLC
Joel Kuznetsky
818-438-2903
disciplinedigital.com

Contact