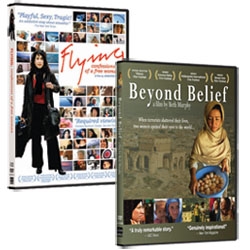 New York, NY, June 11, 2008 --(
PR.com
)-- Alive Mind announces the launch today of a new website, Alive Mind Woman (www.alivemindwoman.com). The site's content will be by and about women, offering exclusive documentary films and blogs that explore women's issues, from politics to sexuality. The new site's inaugural film releases are Jennifer Fox's tour-de-force documentary, "Flying: Confessions of a Free Woman" and Beth Murphy's "Beyond Belief," featured on The Oprah Winfrey Show.
Alive Mind Woman is devoted to the female experience, specifically those 'aha' moments in a woman's life that signify a new understanding of the world and her role in it. Alive Mind Woman will delve into questions about gender identity, motherhood, balancing work and family, self-image and sexuality, as well as international women's issues. "The Alive Mind Woman is curious, independent, opinionated and articulate. Both women and men will find content that engages and provokes discussion about relevant issues," says Elizabeth Sheldon, vice president of Lorber HT Digital. "Alive Mind Woman is a destination for smart women who are catalysts for change in the world."
"Flying: Confessions of a Free Woman" is filmmaker Jennifer Fox's award- winning documentary about the modern female life, an uncensored "Sex and the City" serial that Candace Bushnell, author of "Sex and the City," has called "required viewing for every woman." "Flying: Confessions of a Free Woman" follows filmmaker Jennifer Fox, a forty-something New Yorker, who turns the camera on herself in a struggle to comprehend her "free" lifestyle, packing her bags and traveling across the globe – from South Africa to Russia –to further investigate the universal issues all women face. The result is an epic six-hour serial that the New York Times calls, "Playful, tragic, contemplative…an addictive soap about sexuality and sisterhood." The complete six-hour series, plus bonus features including an interview with Jennifer Fox is now available for direct-to-consumer purchase via the Alive Mind Woman website www.alivemindwoman.com (SPR $34.98).
"Beyond Belief" is about two women, Susan Retik and Patti Quigley, who both lose their husbands in the tragedy of September 11th. Rather than turn inward, grief compelled these women to focus on empowering widows in the country where the terrorists who took their husbands' lives were trained: Afghanistan. "Beyond Belief" follows Susan and Patti as they make the courageous journey from their comfortable neighborhoods to the most desperate Afghan villages. On the journey from the ruins of the World Trade Center to Kabul and back, they discover a powerful bond with each other, an unlikely kinship with widows halfway around the world, and a profound way to move beyond tragedy. Khaled Hossini, author of "The Kite Runner," calls the film "A moving and beautiful film!" and ABC News "a remarkable true story." Featured on The Oprah Winfrey Show, "Beyond Belief" is now available on DVD for home-use and educational-use exclusively at www.alivemindwoman.com ($26.98, $223).
About Alive Mind
Alive Mind releases specialty documentary programming in the areas of secular philosophy, rational spirituality, and cultural transformation. Launched by industry pioneer Richard Lorber, Alive Mind seeks out intellectually provocative work from leading filmmakers – media content that delivers the "aha" response of a transformative experience. Alive Mind's new site devoted to films about women's issues, Alive Mind Woman, includes "Beyond Belief," featured on The Oprah Winfrey Show, and Jennifer Fox's critically acclaimed film "Flying: Confessions of a Free Woman," shown on the Sundance Channel in May 2008.
Visit them online at www.alivemindwoman.com and www.alivemindmedia.com
###
Flying: Confessions of a Free Woman (2-disc set)
SRP: $34.98
Item #: ALV-DV-12
Language: English
Subtitles: English, French, Danish
Running Time: 351 minutes
Audio: Dolby Digital
Aspect Ratio: 16:9
Purchase Online: www.alivemindwoman.com
Beyond Belief
SRP: $26.98 (Home Use), $223 (Educational, PPR)
Item #: ALV-DV-9
Running Time: 92 minutes
DVD Extras: Original Trailer, Interview with director Beth Murphy
Language: English
Purchase Online:
www.alivemindwoman.com