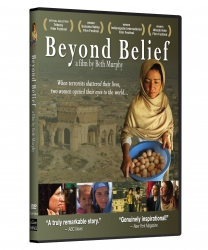 New York, NY, June 11, 2008 --(
PR.com
)-- "Beyond Belief", the newest DVD release from Alive Mind, is the story of two American "soccer moms" who experience devastating personal loss on 9/11 and move beyond tragedy to form an organization to empower Afghan widows. Featured on The Oprah Winfrey Show, "Beyond Belief" is now available on DVD for home use and educational use exclusively at
www.alivemindwoman.com
($26.98, $223).
"Beyond Belief" is about two women, Susan Retik and Patti Quigley, who both lose their husbands in the tragedy of September 11th. Rather than turn inward, grief compelled these women to focus on empowering widows in the country where the terrorists who took their husbands' lives were trained: Afghanistan. "Beyond Belief" follows Susan and Patti as they make the courageous journey from their comfortable neighborhoods to the most desperate Afghan villages. On the journey from the ruins of the World Trade Center to Kabul and back, they discover a powerful bond with each other, an unlikely kinship with widows halfway around the world, and a profound way to move beyond tragedy. Khaled Hossini, author of "The Kite Runner", calls the film "A moving and beautiful film!" and ABC News "a remarkable true story."
In addition, Susan Retik and Patti Quigley's organization Beyond the 11th will receive a donation of $3 from each DVD purchase of Beyond Belief. "Beyond the 11th" supports Afghan widows affected by war and terrorism by funding programs that provide life-sustaining financial and emotional support. "We are honored that Alive Mind is donating proceeds from the film to Beyond the 11th and grateful to Beth Murphy of Principle Pictures for creating such a beautiful film. With the purchase of each DVD, we are helping to raise both money and awareness for the plight of widows in Afghanistan," says Susan Retik, founder of Beyond the 11th.
To find out more about the Beyond Belief DVD and Beyond the 11th visit Alive Mind's new site devoted to women's themed content, www.alivemindwoman.com.
About Alive Mind
Alive Mind releases specialty documentary programming in the areas of new consciousness, rational spirituality, and cultural transformation. Launched by industry pioneer Richard Lorber, Alive Mind seeks out intellectually provocative work from leading filmmakers – media content that delivers the "aha" response of a transformative experience. Alive Mind's newly launched site devoted to films about women's issues, Alive Mind Woman, also includes Jennifer Fox's critically acclaimed film "Flying: Confessions of a Free Woman," shown on the Sundance Channel in May 2008.
Visit them online at www.alivemindmedia.com and www.alivemindwoman.com
Beyond Belief
SRP: $26.98 (Home Use), $223 (Educational, PPR)
Item #: ALV-DV-9
Running Time: 92 minutes
DVD Extras: Original Trailer, Interview with director Beth Murphy
Language: English
Purchase Online: www.alivemindwoman.com
###