Online Luxury Gourmet Made Simple
Savorique.com is a unique new luxury web site for the discerning foodie. The creation of this e-commerce site, in a sea of online options, was the undeniable passion of three gourmet fanatics with forty collective years in retail, manufacturing and marketing experience in the field.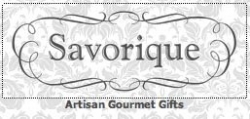 New York, NY, June 11, 2008 --(
PR.com
)-- Susan Friedman, Frederic Kuzyk and Stephane Barbier are admittedly obsessed with finding and bringing to their site an eclectic offering of those hard to find, must have's for entertaining and pantry staples. Where else will you find MarieBelle extravagant Cien box of decorated dark chocolate ganaches, an entire leg of Prosciutto Di Parma ham from Tuscany and a mini Bialetti stove-top espresso maker, all on one easy-to-navigate site?
They hope to be a trusted source for the fine foods and all natural artisan innovators that define what gourmet food is all about. Only the highest quality products from the premier manufacturers in the industry. "We take the guess work out of finding that amazing gift, that is lovingly crafted by hand for the educated consumer," says Frederic Kuzyk, a transplant from his native Paris. Stephane Barbier, also French from gourmet capital Lyon, wants to expand the options for authentic European and Regional fare, that is exceptional on all levels. Once you are introduced to a fine tea, great coffee blend or gourmet hot chocolate, there is just no going back.
There will be products available only during their peak season, holiday specific culinary gifts, and of course whatever is newly sourced, as an ongoing commitment to bring the epicurean the most remarkable selections in their category. Whether it is a tiny Balsamic Vinegar harvest or scratch bakery designing that one of a kind birthday confection, Savorique.com looks towards small producers, rather than the big manufacturers. With the objective to bring that "wow factor" to their marketplace, Savorique.com won't lose sight of the effort and quality that goes into every product they sell. "In the end, that is what will differentiate us from the mainstream retailers," says Stephane. They're not a big box store concept on the web, their mission is to make it easier to find quality and taste. Check them out at www.savorique.com, and see if you agree.
###
Contact
Savorique, LLC
Susan Friedman
413-374-0277
www.savorique.com

Contact