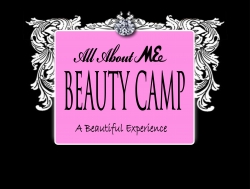 Costa Mesa, CA, June 13, 2008 --(
PR.com
)-- Who Are Today's Role Models For Teen Girls?
These days, admirable role models for young women are hard to come by. Instead, we are constantly bombarded with images and stories of young celebrities glamorizing a life of drugs, alcohol, reckless partying, arrests and stints at rehab. In today's society with these types of standards, it is our responsibility to provide youth with more positive examples on how to lead a purposeful life. The decisions teens make everyday, will affect their lives forever. Teen years are packed with many first time experiences for girls: peer pressure, dating, boyfriends, driving, dances, circle of friends, seeking employment, working, preparing for college, etc. It takes more than common sense when faced with a completely new situation to make the best decision.
All About Me Beauty Camp staff will share valuable insight and advice, so that the teens will better understand life situations and all of the potential outcomes. Therefore, when teens find themselves in these predicaments, the teens are empowered to make informed decisions with confidence. Through fun activities, discussions, interaction and volunteer work, communication skills improve, bettering relationships of family and friends. Discovering a higher level of self respect, ethics, confidence, and self esteem, facilitates the realization that they are in control of their own destiny.
Makeup artist, Donna Mee created All About Me Beauty Camp to combine her love of beauty and fashion with her passion for helping women discover their inner beauty. For the past 26 years, Donna has dedicated much of her life empowering women and is considered one of the top makeup artistry trainers in the industry. Her resume includes numerous celebrities, magazines and runway credits and she has written many beauty columns and articles for various publications.
Teens can enroll in the entire summer program or for 2 week sessions. After summer break, weekend day camps are offered every other weekend throughout the year with one week camps during Christmas and Spring break. Space is limited for enrollment at the All About Me Beauty Camp where teens receive a beautiful experience.
Contact: Donna Mee
All About Me Beauty Camp
Tel: (714) 438- 2430
###