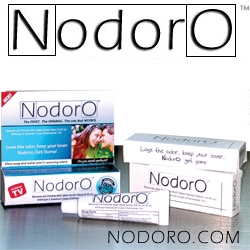 Miami, FL, June 19, 2008 --(
PR.com
)-- Synerfied Healthcare introduces NodorO™ to a wider portion of the International community by launching their Spanish and French website on nodoro.com. NodorO™ is an OTC (Over The Counter) medicated cream specifically manufactured to remove and to prevent unpleasant MGO (male genital odors).
The initial launch of the product occurred on January 4th, 2008. The website online store was originally only offered in English, but due to the popularity of the product domestically and Internationally within North and South America, the need for the website in additional languages was obvious.
"The global market potential in even greater than the U.S market, (based on statistics) due to the greater amount of uncircumcised males outside the U.S. MGO affects men of different ages. It is more likely to occur to men who are not circumcised, due to the moist environment between the foreskin and the gland, which is a favorable ground for development of fungi cells," says Adams. "The WHO (World Health Organization) stated in 2006, that approximately 70% of males are not circumcised worldwide.* So we are looking at a potential market of 1,522,223,863** individuals who are at a high possibility of having MGO."
The French version of their website will target primarily the French speaking province of Quebec, and the Spanish version for Central and South America.
NodorO™ is available for ordering on their website at: NODORO.COM and the Spanish and French version can be found on the main website in the top right corner of the website.
Or
You may call them with questions on their product at 1-877-8-NODORO.
Synerfied Healthcare is a division of Synerfied Capital Inc. a company that specializes in diversified investments.
Media Contact:
Synerfied Healthcare
Media Contact
10 SW South River Dr.
Suite# 1207
Miami, FL
305.325.1522
media@synerfied.com
** (source: indexmundi.com
* (Source: wikipedia.com)
###