New Product Helps Online Merchants Boost Sales
CyberSiteSearch.com provides a unique, continually reinforcing process for online business improvement.

West Chicago, IL, June 24, 2008 --(
PR.com
)-- Reinhart Technologies Inc. announced the general availability of its newest product CyberSiteSearch, which assists online merchants to significantly increase sales on their e-commerce web sites.
The product affords a proven methodology that combines
site search tools, merchandizing, and search marketing features
. Web sites using CyberSiteSearch experience increases in both the number of visitors from search engines and sales conversion rate.
"Our product offers a unique, continually reinforcing process for online business improvement," explained John Schoeph, President of Reinhart Technologies. "First, we boost sales by offering a full featured e-commerce style site search that makes it easy for site visitors to rapidly locate and purchase products. Then we leverage both visitor behavior and product data to improve search engine positioning for the site's product pages. The result is still more visitors who are assisted in exactly the same ways with rapidly locating and purchasing products, resulting in still more sales."
The product is implemented using a "hosted" or "Software as a Service" (Saas) model, where all the software actually resides on the vendor's servers. As a result, merchants need not license or install costly and complicated software on their server. "Merchant Friendly Pricing" is set at just pennies per SKU per month, making the product particularly attractive to small and medium size business web sites. A limited-function, free version is available for starter web sites.
CyberSiteSearch is actually the result of the company's principals' experience as e-commerce merchants. When they couldn't locate a commercially available product to accomplish the desired set of functions at a price that made sense, they decided to implement one for their own use and offer it to other merchants.
"What makes us truly unique is that this product was built by experienced e-commerce merchants for e-commerce merchants; no other vendor can claim that," explained Schoeph. "Since we originally developed it for our gourmet food web site, you could say we eat our own cooking."
For further information, contact:
Reinhart Technologies Inc.
800-499-6414 Toll Free
http://www.CyberSiteSearch.com
###
Contact
Reinhart Technologies Inc.
John R Schoeph
800-499-6414 Toll Free
www.CyberSiteSearch.com

Contact
Multimedia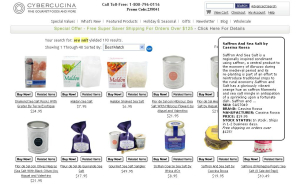 A sample search results page for a site search done for "sea salt", illustrating features which help increase sales conversion rates by making it easy for visitors to locate and purchase products.