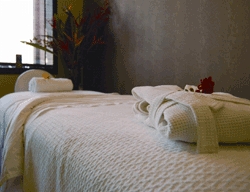 New York, NY, June 25, 2008 --(
PR.com
)-- Spa Chinois is taking the term "day spa" literally. They are offering a full day at the spa from 10 am to 6 pm, "All You Can Spa" for $5,000.
The spa closes for the day so the client has complete privacy and run of the spa. The client can have any and all spa services that day. The "All You Can Spa" day escape is for one client or up to five friends. The clients will also receive a catered lunch, afternoon snacks and champagne.
Ever wanted to have an 8 hour massage or the most indulgent bachelorette party? Now you can with the "All You Can Spa" day escape from Spa Chinios.
Spa Chinois
44 West 55th Street, 5th Floor
New York, NY 10019
212-245-3245
###
Call 1-877-442-3889 for press inquiries.