Texas Right of Way Associates Opens the Barnett Shale Training Center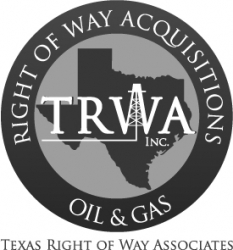 Fort Worth, TX, June 26, 2008 --(
PR.com
)-- TRWA, Inc. (Texas Right of Way Associates) announced today that they will open the new "Barnett Shale Training Center" in conjunction with their right of way acquisitions firm.
"The Barnett Shale Training Center offers 3 training classes in the field of oil & gas Right of Way Acquisitions, Land Title Research and In the Field Training for right of way agents," says, Don Valden, CEO of TRWA, Inc.
The Grand Opening will be held on Thursday, June 26th, 2008 from 4 PM to 7 PM at the Barnett Shale Training Center located at 925 University Drive, Fort Worth, TX 76107.
In 2004, Don Valden, foreseeing a need for trained right of way agents due to the Barnett Shale play developments, established training classes for the next generation of agents. The Barnett Training Center facility will accommodate more than 60 students per class.
The Training Center and its programs are known as the most comprehensive of their type in the Southwest. Offering one & multi-day training programs to individuals and groups.
Right of Way Agent Training Program: Developed to teach the skills necessary for right of way agents to serve various oil and gas companies. Title examination, engineering, real estate evaluation, documents preparation, pipeline construction and negotiations are all addressed.
Land Title Training Classes: Learn the field of land title abstraction. Curriculum includes title examination, plat records, tax/appraisal office research and title run sheets.
In The Field Training of Right of Way Agent Training: Direct, hands on training by industry experts in the areas of land title examination, document preparation, route selection, landowner negotiation, eminent domain and the condemnation process.
When Valden was asked why TRWA, Inc. wanted to get into the business of training agents, Valden answered "When I started working as a right of way agent in 1981 I wanted to keep all of my creative ideas, negotiating techniques and forms to myself in order to be the best agent in the field.
"When I pitched the idea to my brother Ted, TRWA's President, about forming our own right of way acquisition firm, he liked the thought we could train our agents and teach them everything I have learned in 27 years in order for them to be the best agents in the field."
Texas Right of Way Associates, Inc. is a Professional Right of Way Acquisition firm dedicated to serving the needs of the Oil & Gas industry and the Energy Companies currently working in the Barnett Shale play.
Texas Right of Way Associates, Inc. has over 27 years experience in the Oil & Gas Industry and 5 years experience in the Barnett Shale.
Texas Right of Way Associates, Inc. is the only right of way acquisition firm conducting professional training classes for future Right of Way and Land Title Agents.
###
If you'd like more information on pricing, or to schedule a meeting/interview with Don Valden, call 817-361-8839.
Contact
TRWA, Inc.
Ted Valdez
817-308-2198
www.Texasrwa.com

Contact