Green & Christmas Concepts Announces Expansion to India
For the first time ever Green & Christmas Concepts has announced an expansion into India. This will be the first interior plantscaping business to target the recent phenomenal growth of Indian businesses.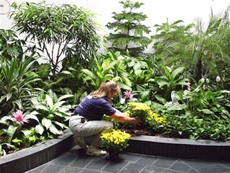 San Luis Obispo, CA, July 07, 2008 --(
PR.com
)-- Green Concepts has just announced their first member joining from India. Green Concepts has over 800 members worldwide operating their own home-based business in the Plant Rental industry. Plantscaping will be a completely new industry to this country and will require many special arrangements and permits to launch this industry successfully.
Greenhouses are now being built in Mumbai to store newly shipped indoor specimen plants to offer to clients. Corporations in India who have never been offered this unique and valuable service will be able to take advantage of a wealth of design and product experience based on a 35 year branded trademarked franchise. With a single installation these beautiful plants will transform what was a very ordinary office to a lush tropical inviting space for workers and clients to enjoy.
Green Concepts is a nationally known franchise and now with the launch of their first branch in India will have worldwide recognition. Buyers become part of a group that allows all 800+ members to take advantage of bigger and better buying power worldwide collectively.
This company also offers Christmas Concepts: renting Christmas decorations to these same clients: hotels, medical facilities, car dealerships, retirement homes, corporations and residential homes. This is an inexpensive, lucrative small business that is very easy to run from home. Anyone, regardless of life experience, can be successful with the plant and Christmas rental business. Purchase price includes a 35 year proven track record, a free website and unlimited customer service forever as part of the one time purchase price. No royalties or additional costs are ever incurred.
Pamela Dorn is the President and CEO of Green & Christmas Concepts. She can be reached at (888) 782-0020.
Green & Christmas Concepts offers members a business opportunity in the interior plant rental and maintenance industry. The company has been in business in California for over 35 years, and is very proud of each one of its 800+ members worldwide.
###
Contact
Green & Christmas Concepts
Pamela Dorn
(888) 782-0020
www.green-concepts.com

Contact