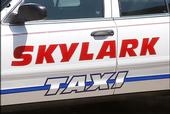 Wichita Falls, TX, July 02, 2008 --(
PR.com
)-- The City of Wichita Falls, Texas has, for the second time in 2008, authorized a taxicab rate increase in the form of fuel surcharges. Skylark Taxi declined to implement the authorized fuel surcharge for the second quarter of 2008 and plans to phase in the authorized $0.30 cents per mile third quarter surcharge during the months of July and August 2008. The authorized sliding scale fuel surcharges set by the City of Wichita Falls are lagging surcharges in that they are determined by amounts the City paid for fuel during the previous quarter.
The Skylark Taxi division of Texhoma Transportation Inc. is the primary taxicab and passenger ground transportation provider in North Texas and services a 100 mile radius centered in Wichita Falls, Texas and includes Sheppard Air Force Base, one of the largest and most diversified training bases in the U.S.A.
"We have really struggled with the decision to implement the fuel surcharge," said Skylark Taxi Sr. Vice President Candice Darnell, "and we are very concerned about the effects of passing these costs on to our fixed income customers, but we are definitely feeling the effects of high gasoline prices." Skylark Taxi will not begin to implement the authorized increase until July 8, 2008 and only for metered fares. Skylark will not increase the flat rate charge between Sheppard Air Force Base and Wichita Falls' Sikes Senter/Century Plaza area (primarily used by members of the military) until August 16, 2008.
"By delaying implementation of the rate increase, we are better able to prepare our customers," stated Candice Darnell, "and make sure that they fully understand the new fares." Mrs. Darnell went on to say, "We began sending coupons and discount cards to our regular customers, many of whom are senior citizens, on Monday June 30, 2008, in order to help them defray some of the higher costs." "We also did not want to raise prices during the always busy 4th of July weekend."
"Our ridership continues to increase, especially among those people going to and from work" said Texhoma Transportation President Kevin Callahan. "Skylark Taxi, as a community partner, has to keep focused on the economic realities faced by our customers as well as those faced by our company." "It is a delicate balance." added Mr. Callahan.
Skylark Taxi, like the rest of the country, has seen its fuel costs skyrocket over the last six months and is currently averaging $3.89 per gallon of unleaded regular.
The City of Wichita Falls will unveil its new 6+1 transit system, "Falls Ride," on July 7, 2008 providing even more transportation options for the citizens of North Texas.
###