Prints Made Easy's Quality Control Sector Meets Second Quarter Goal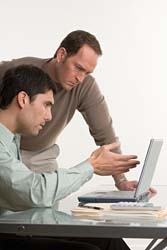 Los Angeles, CA, July 02, 2008 --(
PR.com
)-- In an ongoing effort to surpass its own Quality Assurance statistics, PrintsMadeEasy.com has implemented new procedures for Quality Control and Customer Service.
The first step in the QC process is a thorough inspection of each
business card order
by PME's superior graphic design professionals. They will correct obvious problems automatically and, if necessary, contact the customer for clarification. According to Mr. Whiteman, "Customers are thrilled that any questions are dealt with at the very beginning of the process. We take the opportunity to get to know them and if they require gentle guidance, we can help. The payoff for us both is that placing future orders with PME will be even easier. We want our customers to be able to
design business cards
online and we are prepared to provide them with every possible tool."
Once the design process is complete, the Customer Service department takes over. The CSR training program is intensive and ongoing, and most PME representatives have been at the company since its early days. Customer care is a source of pride for this department and it makes PrintsMadeEasy.com stand out from its competitors.
PrintsMadeEasy.com's propriety software has features that allow Customer Service to monitor each step of the production and shipping process. Susie Matthews, Manager of Customer Service for PrintsMadeEasy.com understands the importance of analyzing the day-by-day operations of her department. "We isolate and define the various issues our customers are having, then we work very closely with the design, production and shipping folks to come up with cost-effective solutions."
Production Manager Chuck Partridge oversees the manufacturing end, making sure that the equipment is running as efficiently as possible and stock is inspected carefully for uniformity of grain and color. Once
the business cards
and
post cards
are printed, they are inspected again and move onto the UV Coating and cutting equipment. Even though PME is shipping out thousands of orders per week, PME managers have a strong floor presence to manage and direct these processes.
Packaging the orders gives the PrintsMadeEasy.com team one final opportunity to look for problems that other departments may have missed. From checking the resolution of the artwork to looking for color and trimming problems, the PME Shipping Department takes is role as the final authority seriously.
PrintsMadeEasy.com has been featured in Inc Magazine for its robust financial performance, stellar customer service, innovative technology and online user experience.
###
Contact
PrintsMadeEasy.com
Brian Whiteman
818 -341-6666
www.printsmadeeasy.com

Contact