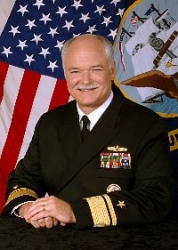 London, United Kingdom, July 09, 2008 --(
PR.com
)-- "It is precisely due to the burgeoning importance of sea-based BMD that MAST provides such an essential forum for raising critical issues and for the mutual development of effective responses and beneficial planning for our way ahead. Our ability to examine topical issues through the eyes of many countries and many layers of experience can only benefit us all, and any progress made in Cadiz will assuredly benefit all of us later as we continue to confront the proliferation of increasingly dangerous ballistic missiles. Further, the gathering in one place of all those nations of the world with interest, investment and experience in sea-based BMD readily facilitates the rapid increase of knowledge, capability and interoperability because we can speak directly and frankly about the crucial issues facing us together.
I take this opportunity to extend my sincere regret at not being able to attend this year's MAST conference in Cadiz, Spain. Unfortunately - at least as regards the timing for my attendance at the Conference - I will be otherwise engaged in Hawaii working the second-ever Ballistic Missile intercept exercise by a Japanese Aegis Destroyer, JDS Chokai. This attempt follows the highly successful first intercept by JDS Kongo in December, 2007, and is yet another indication of the increasingly important role sea-based Ballistic Missile Defense (BMD) is assuming among the United States and her allies in the 21st century.
To help facilitate our efforts, I have selected my longest-serving Deputy, Mr. Scott Perry to attend MAST on my behalf. Scott has accrued unparalleled experience in sea-based BMD - I am sure his presence will be of decidedly mutual benefit.
In closing, I would like to thank all of you in advance for your past efforts, and for your assuredly beneficial endeavors in Cadiz. I would be remiss if I did not single out Almirantes Sanjurjo, Sala, and Núñez for their strong support in the past, and to especially thank them for their invaluable work on behalf of this Conference. I look forward to working with all of you in the near-future, and would cherish the opportunity to engage with you in mutual BMD exercises as we have directly done with our Spanish and Dutch friends and allies and as we are doing now off Kauai, Hawaii. I am sure you will all enjoy the Conference, and hope to meet again soon".
- Rear Admiral Alan B. "Brad" Hicks
 Program Director, Aegis Ballistic Missile Defense
 Missile Defense Agency
For details of all BMD related papers to be presented at MAST 2008, visit:
www.mastconfex.com/search.asp
and enter "BMD" as the search criteria.
###