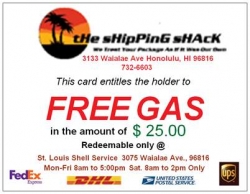 Honolulu, HI, July 17, 2008 --(
PR.com
)-- Today, The Shipping Shack, Inc. @ 3133 Waialae Ave., Kaimuki, announces it will be giving away gas vouchers to its customers. Today's customer needs relief with spiraling upward price of gas.
Customers that spend $50 or $100 will get a $10 or $25 voucher for gas, respectfully, to be used exclusively at St. Louis Shell Service @ 3075 Waialae Ave., Kaimuki. "The consumer & small businesses must work together in these economic times. Our philosophy is to follow this & at the same time to help local businesses right here in our neighborhood,"says Wm Donohoe, Owner of The Shipping Shack, Inc.
Experts say:
- "It's pushing our hot button activators," said Dave Regan, an advertising instructor at Michigan State University. "We're still looking for that deal -- for that break -- on gas."
- On top of that, "people hate to spend their money on gas," said Richard Divine, instructor of marketing and hospitality services at Central Michigan University. "Gas cards may be more effective than saying 'I'm going to give you $4 off.' Businesses are putting a value on the savings they're giving you."
"See Attachments" for sample of Free GAS voucher and rules.
The Shipping Shack, Inc. is an Authorized Shipping Center for Fed Ex, UPS, DHL & USPS. We ship overnight letters, boxes, motorcycles, freight & households. Our other services include mail box rentals, faxing & copying Mobi & Clear Wire.
###
William Donohoe, Owner
The Shipping Shack, Inc.
Phone: (808) 732-6603
Cell: (808) 953-4638
Email: TheShippingShack@aol.com