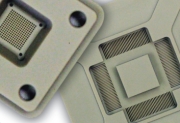 Fullerton, CA, July 23, 2008 --(
PR.com
)-- Engineers and designers of equipment that require precise, reliable tolerances will have more options for new or upgraded part designs with Quadrant's new Semitron® MDS 100 machining stock.
Semitron MDS 100 is a strong, stiff platform for applications such as: - Test sockets for semiconductor test and package equipment - Fixtures for electronics testing - Mounting points for precision diagnostic equipment - Positioning platforms for miniature motion control devices.
With a Flexural Modulus (ASTM D790) in excess of 1,400,000 psi and extremely low moisture absorption (24 hr., ASTM D570) of .10%, Semitron MDS 100 delivers performance that solves engineering problems associated with uncontrolled application environments. Its low Coefficient of Linear Thermal Expansion (ASTM E831) of 1.1 x 10-5 also contributes to its remarkable stability. The Heat Deflection or softening temperature (ASTM D648) is 410° F (210° C).
Semitron MDS 100 sheet is available from stock in range of thicknesses from 1 mm to 6 mm (.04 to .236") in sheet sizes of 250 mm x 250 mm (9.84") and 500 mm x 500 mm (19.68"). Other thicknesses are possible.
Semitron® MDS 100 has a remarkable combination of strength, stiffness and stability. It was developed to be used in uncontrolled application environments or where a high level of precision is required. It is an ideal choice for semiconductor test sockets, nests and fixtures in test and package equipment.
Moisture absorption of .10% at 24 hrs. (per ASTM D570).
Thermal performance to 410°F (210°C)
Flexuaral modulus > 1,400,000 psi
For more details, contact Professional Plastics at (888) 995-7767 or e-mail to sales@proplas.com Additional information is available online at
http://www.professionalplastics.com/SemitronMDS100Quadrant
www.professionalplastics.com/SemitronMDS100Quadrant
Professional Plastics operates 15 locations in the USA & Asia, as well as provide service and support in Europe.
###