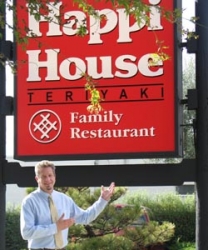 San Jose, CA, July 30, 2008 --(
PR.com
)-- Happi House Restaurants spokesperson, Kevyn Johnston, announced today that the company's Board has approved a plan that would return the brand to franchising.
Happi House, which opened its first location in 1976 in San Jose's historic Japantown, is an Asian fast-casual concept that features California style teriyaki, tempura, noodle and rice bowls with prices that range between $4 and $8. The company enjoys a very loyal customer base and currently operates six locations in the San Francisco Bay Area and plans to open several more locations in the near future. Stores range in size between 1500 and 2500 square feet and are free standing as well as in-line mall locations.
"The conditions are excellent for Happi House to franchise," said Joshua V. Richman, CEO, "Happi House has positioned itself for growth as demographic and economic changes have favored our concept." Richman sites the emergence of Asian influence in today's marketplace and trends towards more exciting quick service meals. "Our product is more in demand today than at any time in our history, and Happi House is enjoying significant increases in comp sales even in this tough economic environment."
Happi House previously franchised locations from 1992 to 1996, but abandoned franchising in an effort to gain more control over its locations. The Company recently hired Richman and Johnston, who have impressive franchise experience to head the new franchise effort. "Our goal is to be a model in the franchise community," said Richman, "for Happi House to be successful in franchising, we must ensure that our franchisees have everything they need to succeed; the highest standard of training, ongoing support, and superior marketing will be combined with our proven, economically favorable system."
Happi House has begun the process of redeveloping its franchise system and plans to be in the position to award franchises by the third quarter of 2008. Initial franchise territories target the San Francisco peninsula, East Bay, and other parts of Northern California.
[Established in 1975, Happi House is the original quick service California teriyaki restaurant serving the San Francisco Bay Area. The first Happi House location opened at the corner of 5th and Taylor Streets in San Jose's Japantown as a result of tremendous demand from the local Asian community for a comfortable, value-oriented neighborhood restaurant. Its model integrates fresh California style teriyaki cuisine with a streamlined cooking system that provides top quality products, speed of service, and cost efficiencies. Happi House Restaurants, Inc. currently owns and operates six fast-casual Happi House restaurants and has plans to develop four to six more locations in the next two years. For more information contact Kevyn Johnston at 408.866.5966 or visit HappiHouse.com]
###