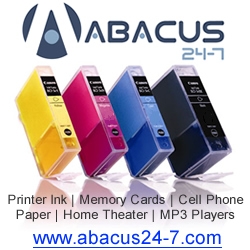 Phoenix, AZ, August 01, 2008 --(
PR.com
)-- Abacus 247 LLC (
www.abacus24-7.com
) established in 2001, is an online retailer of discount printer ink cartridges and electronics accessories, and is one of the first retail websites to implement the newly released "Checkout by Amazon". Online merchants can now add this popular payment method option directly on their retail sites and offer their customers the same familiar and trusted checkout experience they've known for over a decade on Amazon.com.
Abacus 247 CEO Robert Wilkinson believes Checkout by Amazon is one of the most convenient checkout methods available, and is a perfect fit for his website. "People come to Abacus24-7.com because we offer a helpful and uncomplicated shopping experience for purchasing printer ink and other supplies and accessories online. Having the ability now to incorporate our user-friendly website with one of the simplest checkout methods in Checkout by Amazon just makes Abacus24-7 that much more of an appealing place for customers to come and shop."
Robert continues to point out what features of Checkout by Amazon he believes will make it the most preferred payment option on the Abacus24-7.com website. "Checkout by Amazon gives our customers all the benefits of the same payment process that has made Amazon.com such a popular shopping site." Robert says. "Ease of use, familiarity, security and most important - convenience, makes this checkout option great for our site and great for the customer experience."
Checkout by Amazon will allow customers to complete their purchases on a non-Amazon website using the information from their existing Amazon.com account. Checkout by Amazon has all the benefits and features of the checkout process used on Amazon.com, available to other retail merchants for use on their website. Features include pre-stored billing and shipping addresses, credit card information and an easy recall of past purchases. Additionally, all transactions made through Checkout by Amazon are covered by the Amazon A-to-z Guarantee offering further fraud protection for customer and merchant alike.
To see Checkout by Amazon in action, visit Abacus24-7 at
www.abacus24-7.com
.
###
If you would like more information about this topic, please contact Jason Hesse at 1-602-889-9016 or via email at
jasonh@abacus24-7.com