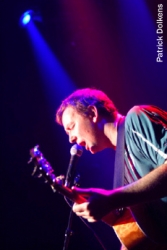 Seattle, WA, August 01, 2008 --(
PR.com
)-- Fans of progressive pop will celebrate when Francis Dunnery - composer, performer and recording artist - shares his music in a unique concert performance to be captured on film and HD. The audience will enjoy a rare full-band showcase of some of the artist's classic work as he commemorates the re-release of the definitive Tall Blonde Helicopter on Aquarian Nation. Flying Spot Entertainment is partnering with the artist and his label to create a full-length DVD release of the event.
"I'm excited about this project. We've got a great band and a world-class film crew," said Dunnery. "I expect this to be an amazing DVD of a unique and intimate event."
The Triple Door venue is a completely modernized 1920s burlesque theater with a wonderful proscenium stage – a favorite location of the production team at Flying Spot.
"The rich visual environment and incredible acoustics make it perfect for recording," says Flying Spot producer Joel Veatch, who has followed the career of Francis Dunnery since the late '80s. "The music, the room, the crew… this collaboration is going to result in a fantastic product."
Fans are invited to become a part of the Francis Dunnery discography; the show takes place Saturday, November 8th at 7:30pm on The Triple Door Mainstage, located at 216 Union Street in Seattle, WA. Tickets go on sale 8/11/08 via the Triple Door Box Office: 206.838.4333 or at www.thetripledoor.net .
About the artist:
Francis Dunnery fronted the British progressive-rock group It Bites, releasing three LPs and several hits that made the British charts in the late '80s. He issued his first solo album Welcome to the Wild Country in 1991. During this period he also contributed to projects by former Yes-men Anderson Bruford Wakeman Howe, and lent his considerable guitar skills to former Zeppelin frontman Robert Plant on his Fate of Nations tour. Dunnery's breakout effort for Atlantic Records, Fearless , put the top-40 songs "American Life in the Summertime" and "Homegrown" into heavy rotation on AOR and pop radio stations across the US. Francis followed with Tall Blonde Helicopter and the hit "Too Much Saturn." This album signaled a change in direction when compared to its slickly produced predecessor; it was unplugged, semi-acoustic and very much in the singer/songwriter tradition. Tall Blonde Helicopter was music straight from the heart, and it laid the foundation for much of Dunnery's subsequent work. Over the years, Francis has released over a dozen albums and collaborated with such luminaries as Lauryn Hill, Elton John, Carlos Santana and David Sancious.
About Flying Spot Entertainment:
Founded in 1992, Flying Spot Entertainment is a Seattle-based media creation company focused on high-end entertainment, corporate image and commercial production. Joel Veatch is a founding partner of the company. He has edited and produced hundreds of projects for broadcast television, commercial, corporate and entertainment entities, recently spearheading the development of DVD projects with Eric Burdon and the Animals and Vicci Martinez.
Event info and song samples:
www.flyingspot.com/francis
Related links:
www.francisdunnery.com
www.flyingspot.com
www.aquariannation.com
###