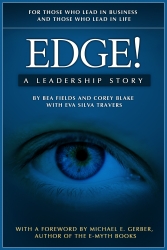 Chicago, IL, August 07, 2008 --(
PR.com
)-- Chicago-based Writers of the Round Table's new book, "
EDGE! A Leadership Story
," debuted during a recent groundbreaking teleclass where the book's author, Bea Fields, executive coach and leadership expert, again raised the bar for actively engaging leaders worldwide with "The Future of Business from the Minds of 10 Top Professionals."
Business experts and nearly 300 people participated in the discussion about future trends in business and leadership. The class, which mirrored questions being posed to presidential candidates about the economy and leading in the current times, was created out of the huge response to "EDGE!," a book based on Field's life's work as an executive coach and leadership expert.
Publisher David Cohen led an in-depth discussion about today's immerging leaders. Participants in the virtual roundtable included Fields' Co-Authors Corey Blake and Eva Silva Travers of Writers of the Round Table, Inc., plus business experts Michael Gerber, Michael Port, Dave Buck, Dickson-Carr, Andy Wibbels, and Kimberly George.
"This is much more than just another business book," said Fields of "EDGE!" "Its message is a call-to-action to engage leaders everywhere to create their own authentic leadership styles if they want to survive the next few years. The fact that we had so many leadership experts in a deep discussion about the future is extraordinary. I was humbled to be among them and thrilled that these leaders want to question the future of business in a market that calls for deft and constantly evolving leadership skills. This is not a one shot deal. As leaders, we need to come together to have these discussions, and 'EDGE!' gives us an exciting foundation to do that."
Newly released, "EDGE!" combines the storytelling appeal of a novel with the educational approach of business non-fiction. The process of the book's creation (Field's partnered with filmmaker Blake and actress/Writer Travers), the final manuscript and the precedent for change and accountability that it sets all exemplify dynamic leadership.
With rave reviews from such business experts as Michael Port ("Book Yourself Solid") and NBC Universal Executive Sophie Mokhtari ("China Girl"), this book promises to take the industry by storm. Seasoned business veteran Michael Gerber (bestselling author of the "E-Myth" books), described the leading character like this: "She's direct, has a sureness about her, asks questions I knew I should answer, and in the end achieves what she set out to do, with such deftness and deliberate coolness, I wondered how Corey, Bea and Eva made her up. Only after reading the book did I find out that the coach was based on author and leadership coach, Bea Field: Bravo!"
"EDGE!" is now available from Writers of the Round Table Press, Amazon, and barnesandnoble.com. For more information, visit, edge-book.com. For interviews with Bea Fields, Corey Blake, or Eva Silva Travers, or to request a copy of "EDGE!" for review, contact Sue Publicover, 207.752.4802 sue@writersoftheroundtable.com.
To view the trailer for the book, visit here:
http://edge-book.com/trailer/
.
###