Premier Power Renewable Energy, Inc. is a leading installer of small to large solar power systems. It was founded in 2001 to serve the increasing demand for solar energy systems of its then parent company, Premier Homes.

Today, Premier Power Renewable Energy, Inc. (ticker symbol: PPRW) is a leading North American and European solar power company providing high performance solar panel systems with consistently high quality for our commercial, agricultural, industrial, government, utility and residential customers.

Premier Power is dedicated to delivering innovative, efficient and reliable solar power systems through our engineering, procurement and construction process.
Status

Public Company, OTC Bulletin Board Market (OBB), Symbol: PPRW.OB

Founded

2001
Company History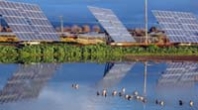 In business since 2001, Premier Power specializes in evaluating our clients' needs and finding the right turnkey solar power system to eliminate their electricity bills. From residential neighborhoods to large corporations and utility scale solar systems, Premier Power has made a difference in the energy bills of their clients. In 2003, Premier Power sold 92% of all solar roof tiles in California and is proud to be the #1 solar roof tile provider in the state. Since then, Premier Power has expanded to become a leading solar installer in Spain and Italy as well as the U.S.