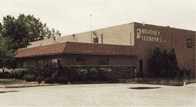 Mahoney Foundry, an aluminum foundry with a 37,100 square foot facility, is located in Kendallville, Indiana. Mahoney Foundry can produce aluminum castings from just a few ounces to 2,000 pounds in a variety of alloys to accommodate all of your casting needs.

Vermont Foundry Company is our brass and bronze casting facility located in Vermont, Illinois. With two casting locations we are able to serve customers from coast to coast.

All of our castings are visually inspected throughout all stages of production and finishing. In just one example of quality control, we test the metal for gas porosity at regular intervals throughout the day and make any adjustments necessary. We strive aggressively for 100 percent on-time delivery and customer satisfaction. Our company understands that our future progress depends solely upon satisfied customers. Mahoney Foundry views quality as a top priority in continuing our position as a world class casting supplier.
Status

Private Company

Founded

1973

# Employees

50
Company History
It's hard to know Mahoney Foundries' position in the casting industry without learning about its beginnings. It's a story about visionary dreams, family pride, and a tradition of quality leadership that puts our customers' needs first.

A family-owned company, Mahoney Foundries, Inc. was purchased and incorporated on November 8, 1973, as an aluminum foundry in Kendallville, Indiana. To expand the growing company Mahoney Foundries, Inc. purchased Vermont Foundry Company. The brass foundry located in Vermont, Illinois became a division of Mahoney Foundries Inc. on April 18, 1987. As the market began to change customers required a finished part rather than a raw casting. In 1991, Mahoney Foundries created its third division, C. M. Machining. This division is capable of machining both aluminum and brass castings.

Satisfaction that comes from accomplishment and putting our customers' needs first has contributed to the success of Mahoney Foundries Inc. for over 31 years. Our company and its two divisions consistently provide quality nonferrous sand castings with excellent delivery and competitive pricing. We are capable of producing brass, bronze, and aluminum sand castings from mere ounces to 2,000 pounds. We currently stock over 67 different nonferrous alloys and produce goods in over 130 alloys. With our combination of automatic and manual molding and core making machines we can provide efficient production at any volume level.

Driven by experience and teamwork, Mahoney Foundries, Inc. is committed to meeting the requirements of our valued customers. We look forward to continued success with a firm commitment to upholding our reputation for service, quality, integrity and value.