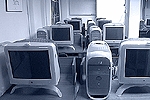 Our consultants and technology professionals are here to help assist you with all of your project needs.
Director of Operations and Client Relations: Jason Frost, BA, IT, MBA
Jason Frost holds a Bachelor of Arts (BA) in Communications from The Evergreen State College in Olympia, Washington, a Graduate Certificate in Information Technology Management (IT) and Master of Business Administration (MBA) from Capella University, School of Business, Minneapolis, Minnesota.
Jason Frost (a.k.a. J-Boom, DJ Gilgamish, Frosty) is also a songwriter/composer whose roots stem from the Seattle grunge movement of the early-to-mid nineties which included bands such as Nirvana, Screaming Trees, Marcy Playground and others. Splitting costs and sharing warehouse space formerly rented and occupied by Nirvana with his then college dorm roommate John Wozniak of the Marcy Playground (known for their Billboard hit "Sex & Candy") he developed a keen understanding and interest in the music business. While John moved on to become more active in the music scene at large, Jason chose to place a lower priority on music making at the time to finish up his education while still remaining an active participant in the local independent rock artist community. Believing strongly in helping those less fortunate, he has and continues to assist in organizing and promoting benefit concerts to raise money for charities at both a local and national level. Over the years, he has worked with many well known musicians.
Head Audio & Video Sound Engineers: Junior Boom, Nervous, Maxwell, J-Dogg & Keith
Certified Audio Engineer: Shawn Parke (a.k.a. Nervous)
Shawn Parke, Certified Audio Engineer, University of Washington. The Evergreen State College, concentrated studies in Music Composition and History. 10 years recording experience includes mastering for K recording artists and engineer/producer at Olympia's Yo-Yo studio.
Credits and past projects include many recognizable indie rock icons such as Phil Elvrum (Microphones/Mt. Eerie), Jana McCall, Mark Pickerel (Screaming Trees), Jason Frost (Love Junkies), Khaela Maricich (The Blow), Busdriver (and members of L.A.'s Shapeshifter's crew), Beth Ditto of the Gossip, Anna Oxygen, Mirah, Chris "Sandman" Sand, Dynomite D (Beastie Boys), the underground feminist rap phenomena Scream Club and many more. Soundtracking for the Filmwave short film "Flow With" has been featured in Rolling Stone and Sony Pictures Spotlight. Currently, producing albums for six groups including Memphis' "The Valentines" and Scream Club protégé "Nikki Clique" as well as a horror thriller soundtrack for the new indie film "Punk Vampire Killas."
Inquiries:
Musicians and songwriters interested in working with us, feel free to submit some sample material to songmatch@frostyj.com and have your name and style of music placed on our song match roster for upcoming projects. Jobs/employment: send resume, position desired and salary requirements to work4us@frostyj.com, Field staff/commissioned sales agents: jforce@frostyj.com, Investor Relations information: moneymatters@frostyj.com
We are NOW accepting demos for inclusion on new projects & upcoming Frosty J Music Compilation CDs
If you think you got the next big hit song for radio, TV, film or other media use then mail your demos to:
Frosty J / DEMO
551 Dal Hall Blvd 102
Lake Placid, FL 33852
Please be sure to include the following with your demo: at least three songs, your contact information, pictures (optional), e-mail address, website (if applicable) and some information about the artist, writer, composer or band submitting material.
Press contact: press-inquiries@frostyj.com
For project consultation, artist management, pricing and worldwide licensing of material call USA Headquarters (801) 730-5818 or write: projectmgmt@frostyj.com