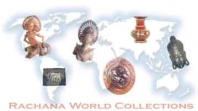 Established in 2005 by Ms. Noliak Hong, Rachana World Collection is a destination
for unique, exquisite and exotic crafts. We offer only the highest quality and hard
to find products from various exotic locations around the world. Our product
portfolio consists of masks, wall relief panels, vases, statues, handicrafts,
buddha figures, tapestries, etc that will add a special and unique touch to your
exotic home decor needs. They also make excellent gifts for special occasions
such as house warming, achievement trophies, office decor or simply birthday
gifts.
Rachana World Collections is located in Carrollton; which is about 10 miles
northwest of Dallas, Texas.