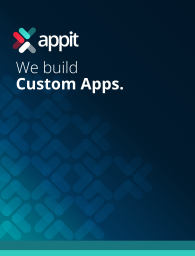 AppIt Ventures is a Denver based Custom Software Development Company with experienced App Developers focused on Mobile App Development (iOS App Development & Android App Development), Web Development, and Custom Software Development.

AppIt Ventures served its first client in 2009, and over the past 9 years has developed over 350 applications for clients ranging from local startups to enterprise level companies. Since AppIt's conception, we have earned recognition from our clients, the press, and the community for being a world-class organization, delivering high-quality applications and a customer-focused process. With an eye toward the future, AppIt Ventures has opened offices in Denver, London, and Hyderabad, with partnerships in South America and Eastern Europe. Our strategically placed global locations have given us the opportunity to serve clients with condensed project timelines – allowing us to work around-the-clock in order to deliver applications quickly without sacrificing quality.

Why We're Different:
We're impeccable with our word. In the world of custom software, the variables are endless. Unforeseen development roadblocks can drastically shift the budget or timeline of a project. Constantly changing technology can impact the overall design or approach. Challenges with integration can make or break functionality. Even slight changes in the design of an application can lead to tens of thousands of dollars in budget differences. These risks are present in every custom software development project, which is why it's important to work with a partner you trust. AppIt Ventures prides itself on doing what we say we'll do, and we are fiercely protective of your budget and timeline.

We care for our clients. In many of our past-project demos, you'll hear our team members tell the client's story, rather than just reviewing the technology itself. Our team members work closely with our clients over weeks and months, intimately acquainting themselves with our clients' businesses and their projects. This approach allows us to pressure-test our technical recommendations to ensure the end-product serves its principle purpose – to breathe life into our clients' visions and goals.

We're passionate about technology. Our passion for technology allows us to remain nimble on the cutting edge of new technology. We've built a culture around continuous learning and improvement in development, which allows us to explore and innovate on behalf of our clients. For us, development isn't just a job, and our clients benefit from the creativity, knowledge and enthusiasm that stems from our love of technology.
Status

Private Company

Founded

2012

# Employees

60