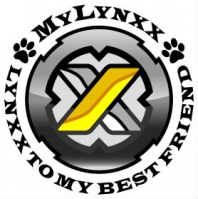 We love our dogs. They are the entire reason we created MyLynxx. Our family happily includes two American Pitbull Terriers and quite honestly, we believe they only deserve the best – especially when it comes to collars and leashes. Unfortunately in today's market, you have two choices: the nylon collar that will be destroyed in a few weeks or the metal collar that will discolor your dog's coat. So, we decided to do something about that.

Our only goal in mind when launching MyLnxx was to be the best. We believe that dog lovers should have better options – something unique that makes a real statement. Because of this, we use the most innovative, state-of-the-art manufacturing process to create our products. Our collars, leashes, and canine lover matching bracelets are only produced with the most durable stainless steel to provide unparalleled strength combined with sheer elegance. This is the same kind of stainless steel used in your own jewelry, skyscrapers, and high-end cookware!

Not only are MyLynxx dog collars and leashes stylish and contemporary, but they're also scratch resistant, comfortable, stain and weather resistant, and offer the newest design on the market. We absolutely can't wait for you to see the difference.
Status

Private Company