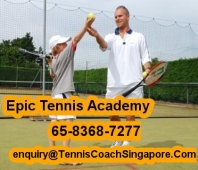 Epic Tennis Academy (Singapore), formed in 2008 by a team of Professional Tennis Players/Coaches & Passionate Physical Educators.
Vision
"Provide Quality Tennis Lessons through Excellent Coaching/Teaching Pedagogy"
Mission
i) Coach all-ages & levels of students
ii) Have students represent their clubs or constituency in the National Sport Game or higher-level competitions. ~Advanced Player
iii) Coach recreational tennis players. Develop their interests in playing or watching a proper Tennis Game by exposing them to tennis competition and learning the technical & tactical know-how. ~Intermediate Player
iv) Coach beginner students; kids or adult to learn basic skills so that they enjoy playing tennis.~Beginner Player
Epic Tennis Academy (Singapore) offers;
1. Kids Tennis Lessons
2. Ladies Tennis Lessons
3. Adult Professional Tennis Lessons
4. Group Tennis Lesson
5. Corporate Tennis Lesson
Call Us or email us Now!
65-8368-7277 or E-mail: enquiry@tenniscoachsingapore.com
<TENNIS LESSONS ARE ONLY OFFERS IN SINGAPORE>