Brooks Pepperfire Foods is a premier Canadian food facility in Rigaud Quebec. Making a name for themselves in the development and production of hot and spicy foods, they specialize in co-packing and private labelling fresh food products for a large number of Specialty Food companies. The company specializes in custom just in time manufacture for international and domestic markets.

Peppermaster® Hot Sauces is their flagship line. More than just sauces, Peppermaster® products are specially formulated and designed for the chilihead on a quest for flavour. Peppermaster® products are all-natural and use no artificial colourings or preservatives. Peppermaster® products are offered direct to customer at Craft Fairs and Festivals or available at the boutique or online.

Peppermaster Local products, (created in 2021) are sold to stores with an Ecolocal mandate.

Founded in 2003-2004, Brooks Pepperfire Foods is finding Fun honourably by surprising palates and expanding minds with the flavour of pepperfire.

Brooks Pepperfire Foods purchases local produce when in season and out-sources directly to farmers internationally during the rest of the year.

The company mandate since inception is to promote local and fair trade that is organic or all natural and is actively working to have glyphosates removed from the Food Chain, as well as from logging and agricultural industries as they are detrimental to both human health as well as persistent and highly destructive to the environment.

Brooks Pepperfire Foods is jointly owned by Tina Brooks, VP Marketing and Greg Brooks, Peppermaster and President.
Status

Private Company

Founded

2004

# Employees

9
Company History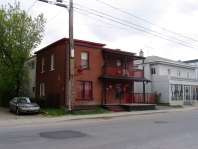 Brooks Pepperfire Foods was incorporated in the spring of 2004 and has met with extraordinary success. In high demand at the One of a Kind Christmas and Spring Craft fairs in Toronto, and at the prestigious Salon des Metiers d'Arts de Quebec in Montreal and Quebec City, the Nova Scotia Designer Craft Council shows, and Calgary Art Market, Brooks Pepperfire Foods is instrumental in making Peppermaster brand the champagne of pepper products across Canada.

In April 2004 the company moved into its corporate headquarters in Rigaud, Quebec and In the fall of that year, Tina Brooks joined the company to handle marketing and sales, developing new markets and sales opportunities. BPFI opened their market stall at Finnegan's market in Hudson Quebec.

An investment partnership with the BDC in 2005 injected $90,000 in production line capabilities. The kitchens were upgraded allowing the company to begin co-pack and private label operations.

Brooks Pepperfire Foods began an exploratory marketing thrust into the US. They presented the Peppermaster brand premium line of products in the Canada Pavilion at the New York Fancy Foods Show in July 2006. In December, BPFI presented the Peppermaster brand at the Chicago One of a Kind Show.

In January 2007, Brooks Pepperfire Foods announced the launch of US marketing operations and presented their products at the San Francisco Fancy Foods Show. US explorations confirmed that in order to infiltrate the US markets, BPFI would have to organically certify their products. Shortly thereafter, BPFI was given a mandate by TransFair Canada to create the market for Fair Trade certified chili peppers. March of 2007 saw BPFI launch the Pepperfire Initiative which brought the first in a series of fair trade certified products to market through a tri-partite agreement with supplier Oxfam Equita of Montreal. Having once been fair trade certified, the next step for BPFI is to obtain their organics certificate.

BPFI was hired for research purposes for the award winning, independent, documentary film The Great Chicken Wing Hunt (2013). In August 2007, BPFI staged a music festival to raise awareness for Fair Trade to be used as footage in the film. With the support of the Municipalite de Rigaud, headliner, Blues great Alan Gerber played to an intimate crowd.

Greenland Corporation (Now, Hyppo & Sons) of Las Cahobas Haiti began growing goat peppers for BPFI in the spring of 2007 and in July, the first fairly traded chili peppers were imported.

In December 2007, Greg Brooks was invited to appear on the CBC program Test the Nation as part of a panel of Canada's top 30 Chefs. The program aired on January 21, 2008.

2008 saw the Company named one of Canada's Top Ten Food Innovators by Food in Canada Magazine.

In 2008, the company was offered a Grant to expand by the Federal Government. Unfortunately the company was left scrambling when the Feds pulled the plug on the grant offer when the Provincial Government refused to back the grant.

Since that time, the company has focused on expanding and ameliorating their manufacturing capabilities.

Currently the company manufactures food products for over twenty different brand owners.