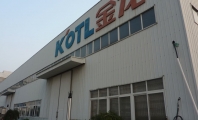 Jinlong Machinery & Electronics Co Ltd. is based in the Whenzhou, China as was established in 1993 as a manufacturer of ERM vibration motor and linear vibration motors LRA's. We have established sales offices throughout China and in the USA. We do not currently distribute our products through distributors. In 2012, we had fixed assets of over 890 million RMB. In 2009 we were accepted for listing on the Shenzhen stock exchange (http://www.bloomberg.com/quote/300032:CH). We have factories producing vibration motors in Whenzhou, ChongQing ,Huaibei and Shenzhen China. Our total factory floor area is in excess of 105,000 sq-m. Current staffing level of over 3100 employees which include over 280 engineers / technical personnel. Current production capacity is over 20 million vibration motor / month.
We introduced advanced Japanese production equipment in the 1990's for the production and testing of vibration motors, and adopted modern and scientific management systems. In 1997 we are audited and certified to the ISO 9001 quality system standard and are now fully compliant with ISO 9001:2008.
Jinlong is committed to becoming one of the largest ERM vibration motor manufacturers in the world and to making the Jinlong Technology Industry Park as one of the main electronic research and development centers in South China.