2 Grms Vibration Force Linear Vibration Motor from Vybronics is Claimed to be Highest G-Force Available from Coin Type LRA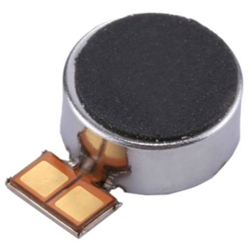 New York, NY, May 07, 2019 --(
PR.com
)-- Vybronics introduces the VG1040003D linear vibration motor.
Also known as a linear resonant actuator (LRA), this device measures 10 mm diameter by 4 mm thick and generates a sizable 2 Grms when driven by a 2.5 Vrms AC signal. This is claimed to be the highest G-force available for a coin type LRA. It is suitable for use in large cellphones, small sized tablets, etc. The 2.5 Vrms input signal is typically supplied by a haptic diver IC.
The VG1040003D LRA coin vibration motor is designed to be mounted within a recessed molded pocket in a product's housing. PCB mounted contact springs or pogo pins mate with the coin LRA's contact pads. This motor is currently only available in this contact configuration. A wire leaded version is not available, although the user can solder wires to the motor's contact pads.
Coin linear vibration motors are characterized by their fast rise and fall times, making them ideal for crisp haptic feedback. They also vibrate in a plane that is perpendicular to the face of the motor which is desirable when used in wearable applications.
About Vybronics
Vybronics is a leading manufacturer of cylindrical vibration motors, BLDC coin vibration motors and linear resonant actuators, LRA's. In business since 1993, they have factories located in Whenzhou, Shanghai, ChongQing and Huaibei, China all of which are certified ISO 9001:2008. All products are both RoHS and REACH compliant. Sales offices are located in China and the USA.
For further information, visit
www.vybronics.com
or contact the sales department at sales@vybronics.com.
Contact
Vybronics, Inc.
Koko Mu
718-783-2328
www.vybronics.com

Contact
Multimedia
VG10400003D Coin Linear Vibration Motor/Linear Resonant Actuation by Vybronics generates a record 2 Grms.