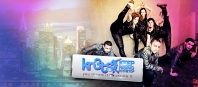 "Keep Rising to the Top," or as it is affectionately called by its acronym, KR3TS is the motto of the acclaimed New York City dance company. Founded in 1989 by Violeta Galagarza, a former LaGuardia Performing Arts High School, Alvin Ailey American Dance prodigy turned Bessie Award winning choreographer. Her mission then and now, continues to broaden the notion of what a dancer is and promotes the preservation of ethnic and cultural dances.
Based in Spanish Harlem, KR3TS a non-profit 501(C)(3) fulfills a need in the community to provide a positive alternative to social and street pressures by providing dance classes and support programs in a non-discriminating atmosphere. KR3TS also carries out its mission through its core-performance group that fosters pre-professional dancers.
KR3TS Dance Company caters to children and young adults of lower to middle income families of New York City. Their goal is to provide an outlet to develop skills and abilities that will enhance their students' lifestyle. They teach students how to express their talents through dance, and are encouraged to set goals and strive for what they believe in; thus improving self-esteem and relationship building skills, whereby securing the knowledge that no matter what level of skill, they can achieve their goals through dedication, determination and hard work.
No matter what the obstacles, they must…Keep Rising To The Top! The program offers a year round ongoing curriculum, for both males and females, ranging from 5 to 34 years of age, and has students from varied ethnic backgrounds in the disciplines of ballet, modern, jazz, hip-hop, salsa, merengue, and African dance.
For additional information, videos, photos and more visit www.kr3ts.com or email us @ serena@mediagurupr.com.