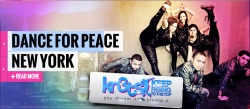 New York, NY, June 01, 2015 --(
PR.com
)-- Nestled in the heart of Spanish Harlem is the Julia De Burgos Latino Cultural Center, an edifice of Puerto Rican pride and strength that has served as a beacon of Latino resilience for over 25 years. It is the place where the dreams of a diverse community are nurtured. Bolstered via the support of the Hispanic Federation, integral partnerships are formed to cultivate self-esteem youth building and adult enriching development programs.
Beginning summer 2015, the Hispanic Federation in conjunction with the Julia de Burgos Latino Cultural Center announces the return of a community staple to its premises, the KR3TS Dance Company
www.kr3ts.com
. Akin to the Julia De Burgos legacy, Violeta Galagarza, Executive Director of the non-for-profit organization is a prominent fixture in her East Harlem community. Standing a small yet powerful 5'2, this single mother is a creative arts powerhouse whose talents have earned accolades for directing, producing and choreographing awards winning star-studded: music videos, commercials, movies, video games, and flash mobs. Moreover, her achievements are seen in the eager expressions and felt in the palpable dance interpretations of the awe-inspiring children and adults performers she instructs.
For over two decades, Ms. Galagarza has graduated many of today's most sought after choreographers. But with just as much talent as she evokes, her stance with KR3TS has been to serve her community and beyond. Her mission to encourage, foster and guide the steps of every individual to walk through the doors of her studio will be showcased at the KR3TS Dance for Peace New York inaugural presentation on July 14th at the Julia De Burgos Latino Cultural Center. The performance will be dedicated to encourage progressive discussion and interaction between the city and its communities.